VIDEO | Jochy Santos returns to Sunday television as a Masterchef Celebrity contestant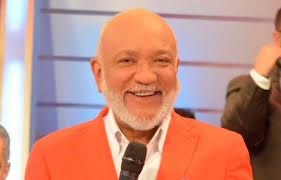 Jochy Santos
The veteran host joins presenters, singers and other figures linked to entertainment
Within hours of making his departure from Telemicro public, veteran host Jochy Santos already has his presence assured on local television on Sunday nights and will do so through his old television company Telesistema.
He will be a contestant of the first edition of Masterchef Celebrity that will air every Sunday from September 1st from 7 to 9 at night.
Santos will compete with announcers and other television figures such as Sabrina Gómez, Isaura Taveras, Yelitza Lora, Hony Estrella, and Dotol Nastra. The dance will be Chiqui Haddad.
See also: Celebrities in the kitchen of MasterChef Celebrity in the Dominican Republic
While music figures like Fefita la Grande, Silvio Mora, Shadow Blow, Manny Cruz, Martha Heredia, Sergio Vargas, and Diomarys La Mala will also fight to be the first Masterchef celebrity in the Dominican Republic.
See also: Chronicle of an announced departure! Jochy Santos resigns from Telemicro
Jochy spoke at the end of June for Diario Libre about this experience, defining this stage as a special experience. "I liked it a lot, not only for being able to share with the friends who were there but for the level of production that program has that fits the guidelines of the International Master Chef. I felt very good and I know that people are going to enjoy this edition quite a lot."
About the show
Endemol Shine, Alton River Media, and 911 Media Group announced that the talents and figures that will make up one of the most anticipated national television programs, Masterchef Celebrity RD, are already confirmed.
After the success obtained in the two seasons, which is transmitted by Telesistema 11, managing to be audience leaders on Sundays, with active followers on social networks, and now this format is extended and growing, bringing the first edition of Masterchef Celebrity to the country, which will be made up of important personalities and artists from the Dominican Republic.
"Masterchef Celebrity will have a riotously fun format, where not only will we see celebrities competing to be the best, but also, the sense of social responsibility will be the most important, since each figure will represent a foundation or charity, which will provide to the community," the producers reported.
Your departure from Telemicro
After weeks of uncertainty in the transmission of television space, the humorist also said that his space will not continue broadcasting on channel 5.
"Good afternoon to my dear friends of the press, sponsors and the general public, hereby I want to inform you that as of August 20, 2019, the program" Fun with Jochy "will not be broadcast on Telemicro channel 5."