Smugglers leave 7 Dominicans directly in storm's path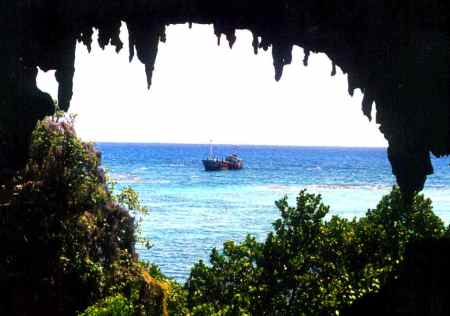 Mona
Press Release
AGUADILLA, Puerto Rico – U.S. Customs and Border Protection's (CBP) Border Patrol and Air and Marine Operations (AMO) agents, along with partners under the Caribbean Border Interagency Group (CBIG) apprehended seven aliens Tuesday from the Dominican Republic that landed in Playa Mujeres Beach in Mona Island.
Since the announced watch of Tropical Storm Dorian, CBP components and partners have apprehended 72 aliens from the Dominican Republic, and seized 42 pounds of cocaine.
"This is a clear example how human smuggling organizations have complete disregard for the safety of the people they transport and assume that law enforcement is not vigilant. They placed these individuals in the direct path of this tropical storm making them believe they made it to the main island of the archipelago of Puerto Rico," indicated Xavier Morales, Chief Patrol Agent of the Ramey Sector.
On Aug. 27, Park Rangers from the Puerto Rico Department of Natural and Environmental Resources (DRNA), a Stonegarden partner, reported the landing of seven undocumented individuals claiming to be from the Dominican Republic.
US Coast Guard and CBP helicopters safely transported the seven aliens to the Aguadilla Rafael Hernandez International Airport, where Border Patrol Agents took custody of six males and one female, for immigration processing.
All aliens claimed and appeared to be in good health. The smuggling vessel was not located.
CBIG was formally created to unify efforts of U.S. Customs and Border Protection (CBP), the U.S. Coast Guard (USCG), Immigration and Customs Enforcement (ICE) the United States Attorney's Office, District of Puerto Rico, and Puerto Rico Police Joint Forces of Rapid action (FURA) in their common goal of securing Puerto Rico and the U.S. Virgin Islands against illegal maritime traffic and gaining control of our nation's Caribbean borders.
For anonymous tips contact the Ramey Border Patrol Sector at 1(800)981-1313.