"Jake Mate," alleged link between "César El Abusador" and urban artists, surrendered Friday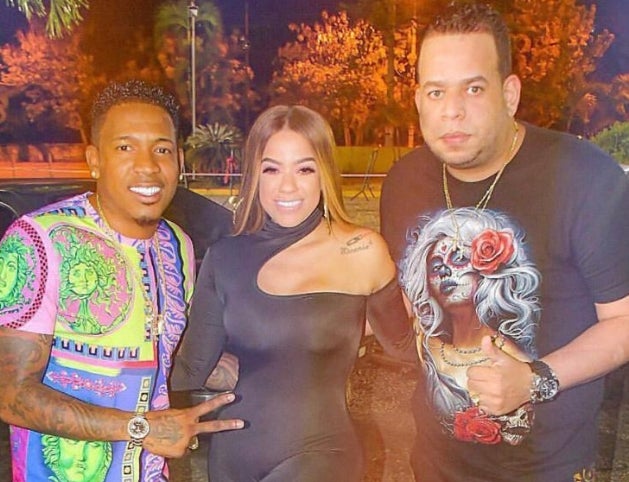 "Jake Mate" with Toxi Crow and La Insuperable.
SANTO DOMINGO.-  The artistic promoter Yadher Rafael Jáquez Araujo, aka "Jake Mate," alleged member of the drug trafficking and money laundering band headed by the still fugitive César Emilio Peralta, known in the underworld as "César, The Abuser."Jáquez Araujo was delivered through his lawyer Félix Portes.
AHORA: entregando a las autoridades de la @Fiscalia_DN de manera voluntaria a Yadher Rafael Jáquez Araujo, a. Jaque Mate.
He was the person who, through his record label "Jake Mate  Productions," hired urban and salsa artists repeatedly to present them in the different entertainment centers belonging to César El Abusador and that formed an elaborate scheme of large-scale asset laundering, according to the Public Ministry.
Read also:  The network directed "The Abuser" got involved in production artists
In nightclubs like VIP Room, La Kuora, Flow Gallery Lounge and Aqua Club and others owned by "César El Abusador," artists such as Ozuna, Omega, Ala Jaza, Yiyo Sarante, El Alfa, Zion & Lennox, La Insuperable and Rochy RD, among others, under the platform of the company "Jake Mate."
According to the prosecution of the Public Ministry, these establishments served both as a meeting center to coordinate the activities of controlled substance trafficking, as well as means to incorporate funds into the financial system, simulating the legality of the operations.
It should be noted that in recent years, "JaKe Mate Productions" organized in the municipality of Las Terrenas, in Samaná, the "Bonche Las Terrenas," in which Puerto Rican urban artists such as Ozuna, Arcángel and Farruko were presented.
Last June, Carlos Efrén Reyes Rosado, better known as Farruko, was sentenced to three years probation for not declaring $ 51,802 in cash at customs at the Luis Muñoz Marín International Airport, in San Juan, upon arrival from the Dominican Republic on April 2, 2018, after participating in a presentation hired by "Jake Mate."
Similarly, "Jake Mate" hired in April Ozuna, one of the most recognized urban artists worldwide, to present it on the billboard of artists in the "Bonche Las Terrenas 2019" with La Insuperable and Omega.
Yadher Rafael Jáquez Araujo "Jake Mate," is a former member of the Dominican Republic Air Force ( FARD ), who in 2007 was arrested along with several people accused of integrating a dangerous gang of assailants.