China considers US judgment on ties with DR rude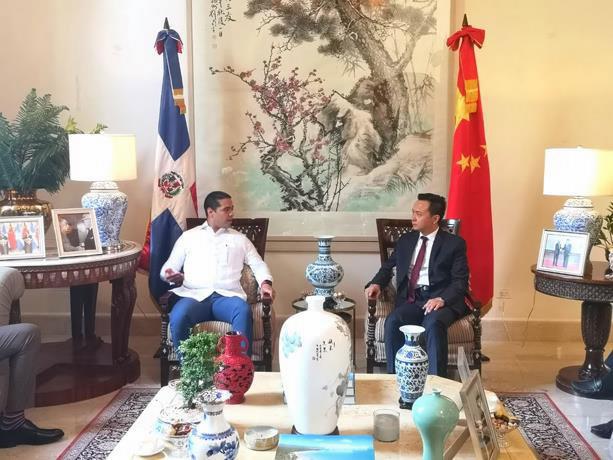 The ambassador of the People's Republic of China, Zhang Run, along with the youth leader of the Dominican Revolutionary Party (PRD), Edward Hidalgo.
The Ambassador of the People's Republic of China to the DR, Zhang Run, said that it is an interference of the United States to express opinions about the nature of diplomatic relations between his country and the Dominican Republic.
"The ties between China and the Dominican Republic have been fully unfolding under the sun's rays and have gained broad support from the two peoples. Any attempt at interference and disturbance is useless. The Chinese side will continue working with the Dominican side to focus on the positive bilateral agenda and deepen trust and reciprocal cooperation overcoming the noises that have arisen," said the Chinese ambassador.
Zhang said he has taken note of the comments published in the media, by the US ambassador to the Dominican Republic, Robin S. Bernstein, on the diplomatic relations signed by China with the Dominican Republic, "so he rejects these statements vigorously."
Ambassador Bernstein was at the Listín Diario breakfast last Wednesday, where, among other issues, she warned that the Dominican Republic must secure its information regarding the government and control of its port infrastructure before the Chinese presence in the country.
"Making unfounded comments about relations between China and the Dominican Republic is an impolite offense for both the Chinese side and the Dominican side, which we strongly reject," said Zhang.
The diplomat said that the Dominican Republic is a sovereign and independent country and has the full right to decide its internal affairs, as well as to choose its external partners, so "it does not need instructors to signal it."
Zhang said it is up to both countries to say in which areas cooperations are implemented in accordance with national laws, law, and international standards.
"It shows that the American side has repeatedly mentioned the issue of values. It is up to the Dominican Republic to determine for itself the type of securities it wants and the Chinese side does not interfere in that," Zhang explained.
Interchange
Zhang said that from January to July of this year, the commercial volume between the Dominican Republic and China was 1.6 billion dollars, with an interannual increase of 33.1%. After a conversation with the youth leader of the PRD, Edward Hidalgo, Zhang reported that Dominican exports to China reached $ 300 million, with a significant increase of 253.5% compared to the same period last year.