SD sectors survive drought by water rations dispatched by Caasd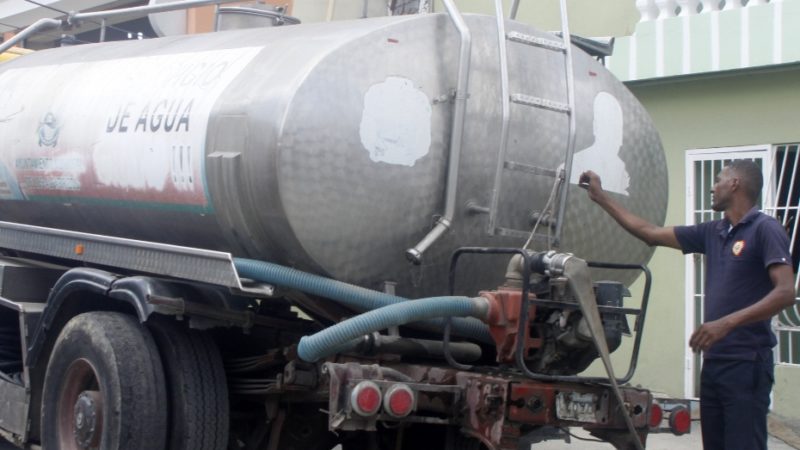 Tour of the water shortage in the neighborhood of the Manoguayabo las Piña alcarrizo and the peripheral neighborhood in photo: Anastasia Ogando TODAY Duany Nuñez 13-9-2019
Inhabitants of sectors of Greater Santo Domingo continue to depend on the rations of drinking water provided by the Santo Domingo Aqueduct and Sewer Corporation (CAASD) to meet their basic needs, due to the drought that affects the supply systems.
According to the CAASD, the deficit continued in the afternoon yesterday at around 70 million gallons, since production was at 350 while normal is 420 gallons.
In parts of the municipalities Pedro Brand, Los Alcarrizos, Santo Domingo Oeste, Pantoja and others in the area, they put the tanks and other containers out on the streets waiting for the supply trucks of the CAASD.
Shortages were also reported in sectors of the National District, such as Villa Consuelo, Villa Francisca, San Carlos, Guachupita and February 27, in addition to Los Mina, Isabelita, Mameyes, Pensador, and others in the eastern area.
Housewives are shouting because when the trucks sent by the CAASD do not arrive, they are forced to buy a water tank for between 70 and 100 pesos, affecting the few resources they get for food.
Yesterday in sectors of Pantoja such as José Contreras Pantoja I, Pegoro, Acevedo, La Cruz, Los Platanitos, Redemption, La Ochocienta, Villa Duarte, José Contreras, Villa del Palmar, Villa María, Barrio 23, Los Manantiales, Villa Isabela, Las Flores, Palmarejo, Villa Linda, Carmen Renata I, II and III there were some water shortages.
In addition, sectors such as Los Girasoles, Palmarejo, Villa Linda I, II, El Quilombo, Alondra, Santa Bárbara, Palmarejito, Los Cazabes and Duquesa were also in need.
Further affected by shortages were the Republic of Colombia sectors such as Ciudad Real I, II, Villa Graciela, Brisas del Norte, Villa Claudia, Isabel Villa, Arroyo Hondo III, Carmen María and Los Bambúes.
The same will happen in New Terraces I, II and III, Ciudad del Fresno and Carmen María, as well as the sectors that are supplied by the Haina system, in the Santo Domingo Oeste municipality.
Water was lacking in areas of Los Alcarrizos such as Paradise I and II, Los Americanos, La Piña, April 24, INVI, Pueblo Nuevo, Savica, Las Mercedes, Canaán, El Chucho, Valle Encantado, Juana Saltitopa, Barrio Landia Norte and Sur, Alcarrizo Viejo and others.