Magnitude 5.9 quake felt throughout almost entire Dominican Republic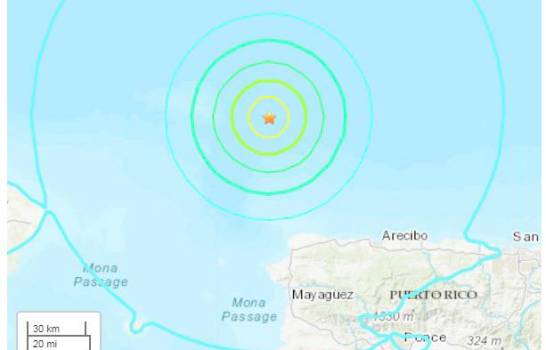 A magnitude 5.9 earthquake was recorded on Monday night in the Atlantic Ocean and was felt throughout much of the country, although moderately.
According to data from the National Seismology Center of the Autonomous University of Santo Domingo (UASD), the epicenter was located 215 kilometers from Miches, in the east of the country.
Meanwhile, the United States Geological Survey (USGS) locates the epicenter 85.7 kilometers from Aguadilla, Puerto Rico, in the Atlantic Ocean.
The USGS indicated that in Santo Domingo, the tremor had an intensity of 3.2. And in San Juan, capital of Puerto Rico, 3.7. The event happened at 11:23 p.m.
According to publications of citizens on social networks, the tremor was felt in La Romana (to the east), Barahona (to the south), Punta Cana (to the east), Nagua, in the northeast. Likewise in San Juan de la Maguana, Monte Plata, Ocoa, Santiago, Bonao, Baní, Hermanas Mirabal and La Vega.
In the Caribbean, the quake was also felt in the Bahamas, the Virgin Islands, Dominica, Haiti, Monserrat, Barbados.
Nine minutes later there was an aftershock of magnitude 5.1.
In Puerto Rico
So far there is no threat of a tsunami to Puerto Rico or the Virgin Islands, according to the San Juan Meteorological Service, Puerto Rico. No damage is reported.
As soon as the earthquake occurred, the governor of the island, Wanda Vázquez, wrote through her Twitter account that she hoped that "all are all well and that we have no harm in the face of the strong tremor."
"It is important to remain calm during these natural events to ensure safety," she said.
At the moment no personal or material damage has been reported and citizens went to social networks immediately to account for their feelings after the tremor, which many felt as "prolonged."