Venezuela envoy waits to present credentials to Dominican president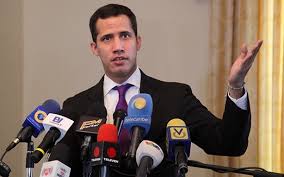 J. Guaido
Santiago.- Venezuelan ambassador to the Dominican Republic, Eusebio Carlino, sent by the self-proclaimed president Juan Guaidó said he is waiting to present his credentials to the Dominican president Danilo Medina.
At a press conference convened by the Association of Venezuelans in Santiago, in the Archbishopric of Santiago, the diplomat said they are in constant meetings to keep the Venezuelan diaspora informed.
Carlino acknowledges that in the current circumstances recognition may take some time given a situation that is "not lived every day."
"President Medina recognizes the legitimate government of Juan Guaidó, we are very grateful for the support received by the Dominican government," he said, adding that thus far 57 nations recognize Guaidó.