Haina landfill fire continues to be brought under control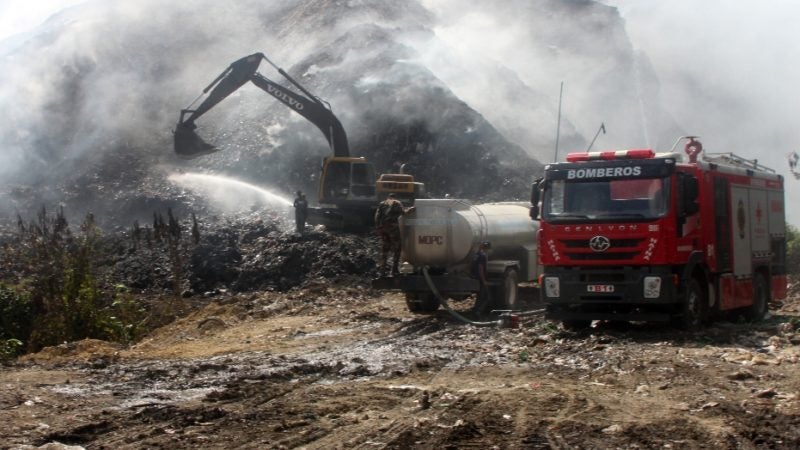 Today, the Haina landfill fire continues to be smothered, with the support of the Ministry of Public Works that sent more work units to the fire that has been affecting the community and has been fought for 15 days. Pictured: Mayor Osvaldo Rodríguez Hoy Duany Nuñez 12-10-2019
Yesterday the Ministry of Public Works reported that it reinforced the heavy equipment and brigades that work towards extinguishing the Haina landfill fire. The work has gone on for two weeks, although according to the agency in the last 48 hours it has decreased substantially.
Minister Ramón Pepín, who visited the landfill, said that there were ten tanker trucks, two backhoes, a bulldozer, and brigades made up of more than a hundred men equipped with mini-loaders, wheelbarrows, and rakes. There are also two trucks of the Corps Fire Department assigned to 9-1-1.
In a document, he said that they tripled the number of resources and requested the collaboration of other institutions to extinguish the fire in the shortest possible time. This action will give the Haina community a break from all the smoke received in the last two weeks.
He promised the community that Public Works would work intensely 24 hours to put out the fire in the shortest possible time and hopes to control the situation in the coming days.
Pepin explained that the place is not a landfill, but a garbage dump. They have found a lot of flammable material such as tires, which have made it more difficult to extinguish.
He thanked God because they work "intensely" with the Public Works staff, the town hall, and other institutions to end the situation in a short time.
According to the text, the mayor of Haina, Osvaldo Rodríguez, said that if it were not for the support of the Ministry of Public Works, the community would be in serious trouble.
"As mayor, together with the great help of the Ministry of Public Works, we assume our responsibility to stifle the fire in the shortest time."
Regarding the tires, he said he would take measures "since they are prohibited from being thrown in the landfill, but often they are hidden along with other rubble."