Danilo visits the US Hospital Comfort Ship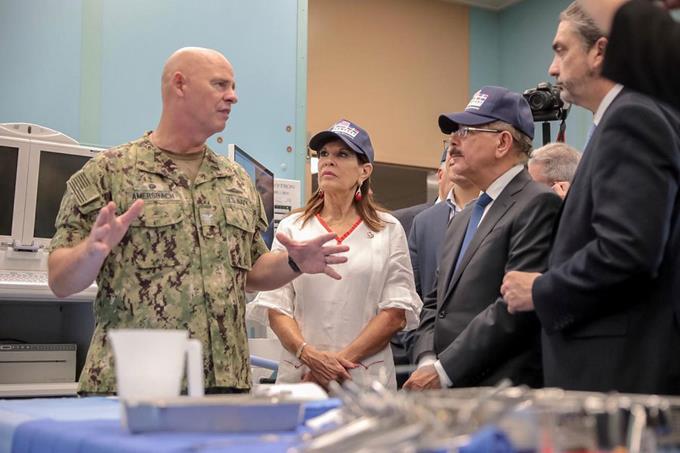 The ship owns the largest blood bank in the world.
President Danilo Medina visited the US Military Sealift Command USNS Comfort Hospital Ship yesterday, which is in the country on a medical assistance mission that began on Wednesday 16 and will last until Monday 21.
This marine hospital arrived with a registration of 320 specialist doctors who perform medical checkups every day, from 8:00 in the morning to 4:00 in the afternoon, at the Juan Pablo Duarte Olympic Center and in the Parque del Este, while surgeries are performed on the ship.
The mission is carried out in collaboration with the Ministries of Defense, Public Health and the National Health Service (SNS), which demonstrates the bonds of friendship and cooperation between the American and Dominican peoples. Upon arrival at the hospital ship, the head of state was received with the honors of his high endowment by a battalion of the Military Maritime Transport Command (MSC) of the United States Navy, and by the ambassador of that nation in the country Robin Bernstein.
During his tour of the boat, Medina received explanations about the characteristics and capacity of the Comfort. The hospital ship is the largest in the world, has eleven levels, a thousand beds, including 50 in the area for emergency care.
It is able to receive patients from the heliport and also from smaller vessels, and, it is so stable that even with strong waves they can use a scanner.
It has the largest blood bank in the world, with more than 5,000 units frozen, and all its processes are approved by the US Food and Drug Administration.