President Medina donates DOP $ 47 M to growing good bread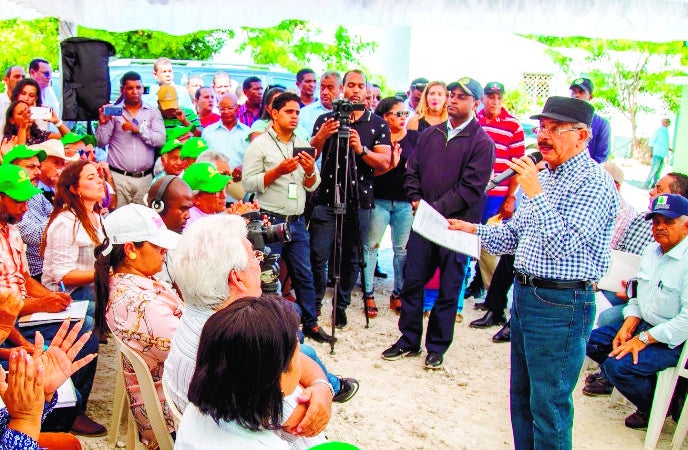 CABRERA, María Trinidad Sánchez. -President Danilo Medina responded to the needs of 300 producers organized in the Agricultural Cooperative and Multiple Services Cooperative of Cabrera María Trinidad Sánchez Province (COOPAMATRISA). In his Surprise Visit 269, the head of state met and approved a project to promote the production of good bread, as an alternative for human and animal food, thus increasing the income of producers whose family burden is 1,200 people. Today / External Source 10/20/19
President Danilo Medina visited Cabrera yesterday, in the province of María Trinidad Sánchez, where he donated DOP $ 47 million to producers of good bread, food for human beings, for the promotion of a project to produce this item for local consumption and export.
"That is my biggest dream: to build a middle-class society. We have significantly reduced poverty in the country, as never before in the history of the Dominican Republic," said the president before hundreds of farmers and community members.
In the tour in his Surprise Visit 269, which began after 10:00 am, the president met with agri-producers members of the Agricultural Cooperative and Multiple Services of Cabrera. He also met with fishermen in the area.
He promised the construction of a highway in Naranjito, a bridge to access the beach, a place for the Educational District and the intervention of the high school, whose construction dates back to 1978.
On the impact of the Surprise Visit, the president explained that the democratization of credit in the last seven years has allowed the resurgence of the Dominican countryside, as the agricultural sector did not have access to financing.
"It is a lot of money that we have put in the hands of agricultural producers. We are talking about 130 billion pesos. "We have revitalized the Agricultural Bank, we have injected billions of capital to lend to farmers in the field at a subsidized interest rate."
He said that this is why "our producers produce 85% of what the Dominican people consume. The field has become one of the most important pillars of the country's development, due to the support that the Government is giving it through various public institutions."
He said "the project is 26 million. It's a lot. To pay interest for 26 million is to bankrupt them. We have to find a way for you to honor your commitments."
He was accompanied by Ministers Osmar Benítez and Ramón Pepín and Senator Arístides Victoria Yeb.