Los Tres Brazos on alert for increased malaria cases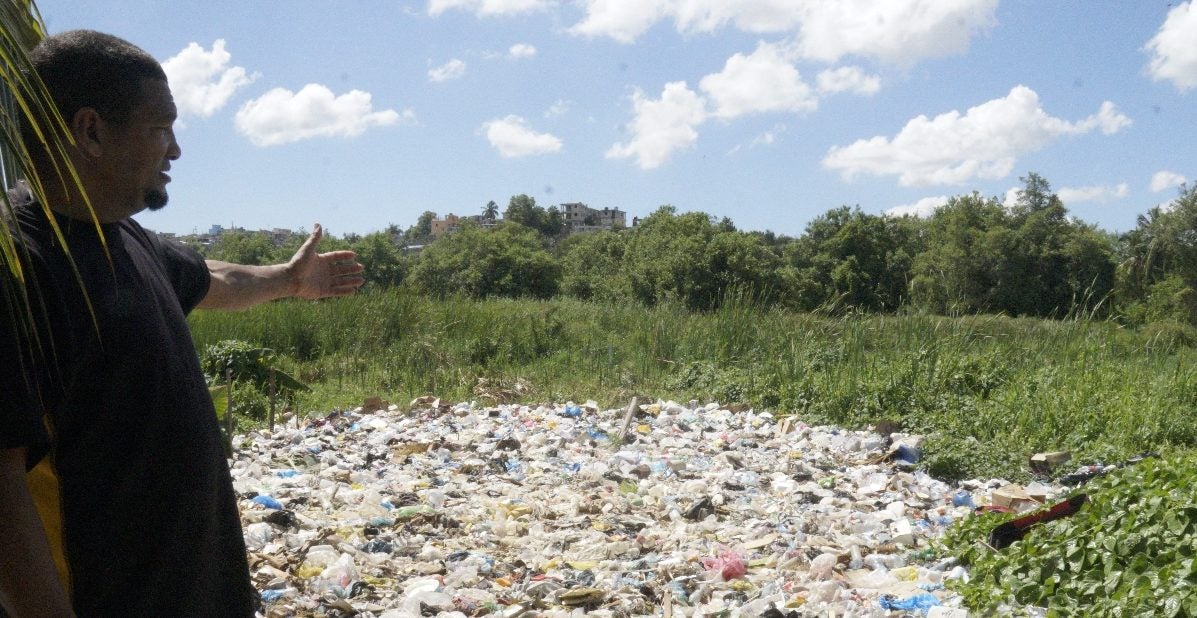 José Núñez points out the "sea of ​​garbage" that accumulates in the courtyards of the houses and surrounding areas.
Affected 86 percent of cases are registered in that area. Alert. Residents are overwhelmed by mosquitoes that breed on the riverbank and in ravines full of garbage.
SANTO DOMINGO. – Los Tres Brazos faces an emergency situation, in the municipality of Santo Domingo East, due to a large number of malaria patients, where there are 77 of 87 cases registered in the last weeks of surveillance, come from this boundary.
Its proximity to the banks of the Ozama River makes it vulnerable to the effects of the disease. The abundance of ponds and swamps – sources that favor the reproduction of the Anopheles mosquito, the transmitter of the parasite that causes it – ensures that the area is plagued by the pest.
Also, the existence of four large untreated gullies crammed with garbage in the community of Cristo Rey, Los Tres Brazos sector, is a human-caused source of this and other diseases.
The stench that emanates from the ravines fills the air the inhabitants breathe. They claim to be overwhelmed and desperate due to the situation, which has unleashed panic and led them to take action for the victims of constant fever; a malaria indicator symptom.
Recent Cases
The health advocate of the area, Eulalia Ogando (Catola), confirmed that she is currently monitoring eight infected, three children under 15 years old and the rest of them are of legal age, including a person over 60 years old, only in the Holy Community Tomás de Aquino from that sector.
One of them is Kelvin Parra, a 43-year-old fry cook, who has been convalescent with malaria for 17 days, ceasing to take his livelihood home.
"I began to feel dizzy, headache and fever, all these days I have been lying down because the disease prevents me from standing," he said. He added with regret that he was forced to request financial help from his sisters.
The president of the neighborhood council, José Núnez, revealed that the problem of the sector is the canyons, and they have requested their treatment without a positive response. He said that at night, the mosquitoes are not controlled; the situation worries the inhabitants.
Narcisa González, in charge of the board of health, said that the sector is the most affected by malaria and leptospirosis.
She says that residents have died from these epidemics and that the surrounding hospitals are full and cannot cope with febrile cases of diarrhea and tonsillitis, while it is recommended to go to the doctor for medical conditions. Malaria has caused three deaths and affected 608 this year.
Health Work
– Fight against malaria
The Vice Minister of Collective Health, José Manuel Puello, told EL DÍA that more than 500 health monitors work daily to detect disease and other conditions, for early diagnosis.