Dominican students will participate in the World Robotics Competition in Dubai
The students belong to the Dr. Miguel Canela Lozano Scientific High School in Villa Tapia
Villa Tapia, Mirabal Sisters. – A team made up of three students and a teacher from the Dr. Miguel Canela Lozano Scientific High School, in the municipality of Villa Tapia, left for Dubai (United Arab Emirates), in order to participate in the World Competition of Robotics, the most important international event, to be held from 24 to 27 of the current month.
Secondary school students, Anthony Cruz (17 years old), Jéssica Reynoso (17 years old), and Briana González (16 years old), will represent the tricolor flag in the Middle East, accompanied by their teacher and guide Waldu González, who trusts the local proposal to have an outstanding performance this year, due to the ability to have their students solve problems they have developed, he said.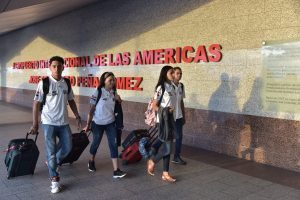 This is the second time that a Dominican team participates in what experts consider the robotics Olympics, where more than 1,000 teenagers, aged between 14 and 18, go with robots that they themselves build and overcome a series of obstacles up to conclude with proposals to improve the environment and daily operations.
For the director of the aforementioned scientific staff, Roberto Codazzi, this is another opportunity where students will demonstrate the quality of teaching and education by competencies posed by the new Dominican curriculum and the Educational Revolution of President Danilo Medina.
"We believe a lot in developing skills for the youth of our community. We encourage problem-solving, project development and motivation of skills with critical thinking. These events are fundamental because they open the minds of the participants and challenge them to be better," he said.
Codazzi thanked the support received since 2013 by the Ministry of Education (MINERD), the Office of the First Lady and other entities, in order to promote good practices and motivate them to be better every day in science, arts, and Languages.
The high school started with 94 students and they are already 540 from first to sixth. In five years they have achieved national and international merits, one of them the Medal of Teaching Excellence awarded by the President of the Republic, Danilo Medina last year for being the best in "Vocation for the Incorporation of ICT in Educational Processes."
They have 16 classrooms, two science and engineering laboratories, four outdoor basketball and volleyball courts, soccer and handball fields, two computer centers, greenhouses and large green spaces for recreation. In addition, they have under their responsibility the 42 km La Salcedo Scientific Reserve of karst forest, to help develop their environmental management and preservation plan.
The campus has more than 50 teachers specialized in its areas, from Puerto Rico, United States, Italy, Canada, Chile, Venezuela, Spain, Mexico, Haiti, Germany, Romania, United Kingdom, Brazil, India, Switzerland, Scotland, France, Lithuania, Japan, and South Korea.
Engineering, natural sciences such as biology, chemistry, physics, and environmental science are included. They add elective courses in arts, physical education, languages ​​(English, French and Spanish), community work, ecological excursions, interdisciplinary workshops, vocational and professional exchanges with industries, companies, and non-governmental organizations in the region. In addition, exchanges outside the country.