DominicanaModa 2019 starts with brightness and splendor
The Colonial City put on the costume of glamor, brightness, and splendor to start DominicanModa 2019. It was worn with an opening by the international Giannina Azar.
With her collection 'Studio Fifty Four', the designer left the catwalk open to bets on exceeding all expectations. Her modern creations mixed with the history that the area of ​​the oldest city in the New World exhibits.
Flamboyant models, striking creations and an overflowing enthusiasm among those present qualified the passing of the 55 pieces that make up the proposal of 'The Master', inspired by the nightclub atmosphere of the city of Manhattan, of the 60's, which enjoyed luminaries and celebrities
This collection was created one hundred percent by hand with handmade materials and crystals. You can appreciate the thorough work in rhinestones in each of its pieces, predominantly silver, lead, black, bronze and metallic colors.
The works of art were created in the same body of each model. Shoes, wallets, and accessories are also of glassware evoking distinguishing disco mirrorballs.
Dominican fashion blogger Letty Rivera was in charge of opening the catwalk by modeling an embroidered white suit with silver Swarovski Crystals and white feathers. The suit is a replica of one of the costumes used by singer Cher. While the Mexican singer Yuri was in charge of closing the parade wearing the piece she chose with grace and fun.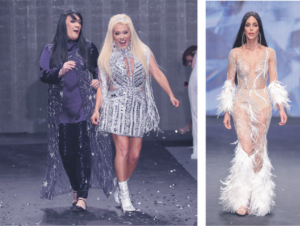 A final without waste
The designer, who enjoys the admiration of the Dominicans, closed with a flourish. The production and styling of the parade were in charge of Keyhter Estévez, and the scenery that was set in the discos of the 60s of The Big Apple was a creation of La Vereda and Víctor Erarte.