FEDA delivers more than RD $ 2 million to agricultural producers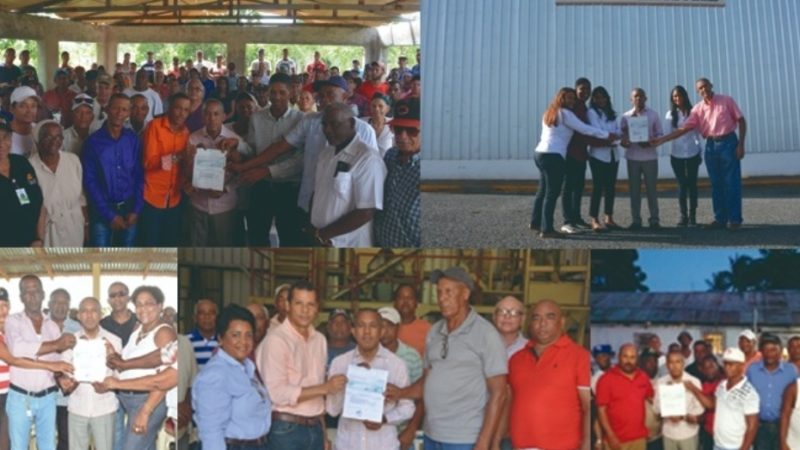 The director of FEDA, Francisco Caraballo, gives funds to different associations of agricultural producers.
The Special Fund for Agricultural Development (FEDA) delivered more than 22 million pesos to agricultural producers, fishermen and ranchers for the purchase of machinery, materials and supplies to boost and develop their projects in the provinces Monte Plata, San Pedro de Macorís, La Romana, Higuey and the municipality of Boca Chica.
The granting of the funds was made by the director of FEDA, Juan Francisco Caraballo, during a tour of different associations in the Eastern Zone of the country, in order to give an immediate response to the instructions of President Danilo Medina.
The fourth disbursement of more than RD $ 11 million was given to the Association of Pineapple Producers of Monte Plata for the preparation of land, planting, and maintenance of the crops. To the Association of Cocoa Producers of El Puerto, in San Pedro de Macorís, the official gave RD $ 900,000 non-refundable for the rehabilitation and promotion of 6 thousand plots of cocoa and the construction of a nursery.
Caraballo also delivered more than RD $ 8.0 million to the Association of Producers and Irrigators of Las Lagunas de Nisibón. Also, to the Association of Breeding Breeders of Caprinos de La Romana, FEDA delivered 700 thousand pesos of the commitments assumed in the surprise visit 29 by President Danilo Medina.
Likewise, as a third and final disbursement, Caraballo gave more than 2 million pesos to the president of the Association of Fishermen of Andrés, Boca Chica, Rafael Marte, to modernize the fishing activity of that locality and the purchase of equipment, working capital, and fishing materials