Farmers from El Seibo protest in front of the National Palace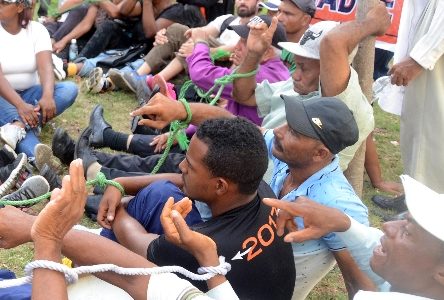 After five days of travel from El Seibo, members of the Association of Agricultural Workers Mamá Tingó arrived yesterday in the vicinity of the National Palace, where they bound each other together with a rope in protest for the return of land from the San Francisco Vicentillo community, La Culebra, from which, they claim, they were illegally evicted.
The pilgrims, accompanied by religious leaders, expressed their interest in meeting with President Danilo Medina to see that justice is done.
Last night they were still stationed on one side of the government offices, trying to be heard by the president.
Speaking to the media, they said they were victims of eviction by the State's lawyer despite occupying the land for more than 20 years and that the Dominican Agrarian Institute settled them in more than 20 thousand plots.
The priest Miguel Ángel Gullón, pastor Silvio Molina, and Mr. Modesto Reyes spoke on behalf of the protesters.