Pilgrims of El Seibo, the injustice of being thrown off their land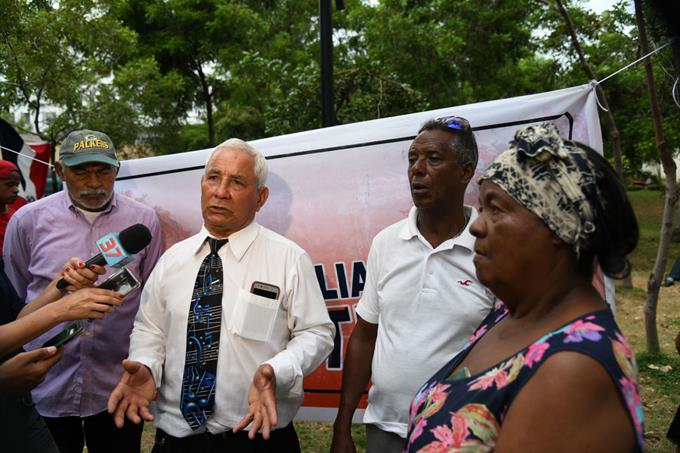 With their emaciated faces, those eyes full of helplessness for social injustices and their hands marked by a lifetime working the lands, dozens of pilgrims who walked for five days from El Seibo to the National Palace, yesterday demanded in a single voice that they be returned some hectares that were taken from them more than a year ago.
Pastor Silvio Molina, who served as spokesman for the Association of Agricultural Producers Mamá Tingó, called on the Government of President Danilo Medina to intercede for them since during one of his visits in San Francisco Vicentillo, La Culebra, he promised the peasants that their lands would be titled in their names and returned to them.
Molina said that these lands were delivered to them by a decree of 1975, issued at that time by President Joaquin Balaguer.
However, the pastor alleged that the landowner Pedro Guillermo Varona, advised by the State's lawyer, José Antonio Polanco Ramírez, decided to evict them violently accompanied by military men and even thugs armed with long-range weapons. 
Persecution has already taken a life
The peasants also demanded justice for the murder of the child Carlos Rojas Peguero (Carlitos), who died during the conflicts over the land, six months ago and has been one of the main symbols of this struggle to continue demanding that their rights be fulfilled.
The pilgrims, also headed by the priest Miguel Ángel Gullón and community leaders expressed their total disenchantment with President Medina because of what they consider "is abuse and disinterested indifference."
"They have mistreated us because they did not receive us and look at the conditions they have for us," said a representative of the association.
According to the statements offered by one of the farmers, the authorities tried to stop them as they were leaving the province in protest but gave up because they showed resistance.
"They made us a checkpoint at the entrance of El Seibo but because of our resistance they gave way," said one of the leaders of the peasant struggle.