US agents nab 2 Dominicans with 2+ tons of drug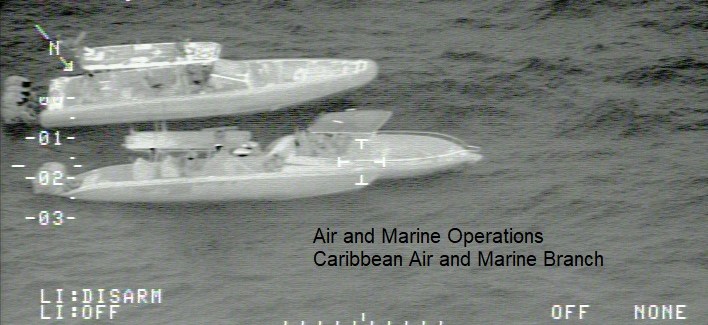 Press Release
PONCE, Puerto Rico – U.S. Customs and Border Protection Air and Marine Operations (AMO) interdicted a vessel Thursday operated by two men from the Dominican Republic transporting 80 bales of cocaine near the southern coast of the island.
The 80 bales had cocaine bricks that weighed a total of 4,192 pounds (1,902 Kilos). The estimated value is US$47.5 million.
"AMO has very advanced aeronautical and maritime capabilities to detect and interdict smuggling attempts throughout our Caribbean coastal borders," stated Johnny Morales, Director, Air and Marine Operations for the Caribbean Air and Marine Branch.
On Oct. 30, the Caribbean Air and Marine Branch (CAMB) launched DHC-8 Maritime Patrol Aircraft (MPA) crew to conduct a border security patrol south of Puerto Rico.  Near noon the MPA crew detected a white twin engine center console vessel navigating north with two persons on board approximately seventy-four nautical miles south of Guayama, Puerto Rico.
An AMO UH-60 Black Hawk helicopter crew departed to support the interdiction efforts as well as Marine Interdiction Agents from Ponce and Fajardo Marine Unit to interdict the vessel once it entered United States customs waters.
The crew of the MPA maintained constant surveillance of the vessel while two Ponce Marine Interceptor crews were able to intercept the vessel near the city of Guayama.
Two men who claimed to be nationals of the Dominican Republic were found inside the boat and 80 bales of what was tested as having the properties of cocaine.
Special Agents with US Immigration and Customs Enforcement (ICE) Homeland Security Investigations will undertake the investigation and prosecution of this incident.
AMO is a federal law enforcement organization dedicated to serving and protecting the American people through advanced aeronautical and maritime capabilities.  With approximately 1,800 federal agents and mission support personnel, 240 aircraft, and 300 marine vessels operating throughout the United States, Puerto Rico, and U.S. Virgin Islands, AMO conducts its mission in the air and maritime environments at and beyond the border, and within the nation's interior.