Guinness: In 5 minutes and 18 seconds DR takes Russia record
The record of having the most couples dancing in unison to our native rhythm had to be from the "Land of Merengue" and last night Guinness World Records confirmed that the official attempt at the world's largest merengue dance record was reached by the Dominican Republic.
With a total of 422 couples, achieved in the Plaza España of the Dominican capital, dancing the theme "El Merenguón" of the late Joseíto Mateo, "El Rey del Merengue."
The accomplishment was confirmed by the Official Winner of Guinness World Records, Natalia Ramírez. Az Films Producciones, chaired by show producer Alberto Zayas, was in charge of conquering Russia's feat of 2013.
"The official record holder of the Guinness World Records record title of the world's largest merengue dance is AZ Films Productions," was thus certified by the world record registry.
The historical dance was transmitted by Telesistema, channel 11, and conducted by Luz García and Elines Olaverría.
It lasted five minutes and 18 seconds, with 427 pairs of dancers, of which five were disqualified. From the early hours of the afternoon, hundreds of people went to Plaza España to support the 427 pairs that sought to break the record of most couples dancing merengue synchronously.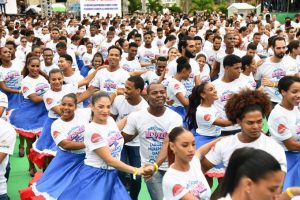 During the process, each judge was responsible for evaluating 24 pairs, separating them into blocks to avoid confusion.
Those present kept motivating and encouraging the participants shouting phrases like "Long live the meringue!" – clapping and raising the national flag. The light rain did not stop the public, while in the surroundings the tourists did not stop surveying the historical moment and some took advantage of the activity to work their dance steps.
The folkloric ballets of several universities and dance schools joined together so that the country could break the record and set the tricolor flag high, while every corner of the country joined together to support this cause. The dancers of the national dance school infected the audience with emotion and declared that the Dominican people are the ones who dance the best merengue in the world. The theme was performed by Miriam Cruz, Manny Cruz, and the Puerto Rican Elvis Crespo. At the end of the event, each of the participating couples was given a medal, with which they will remember this magnificent moment.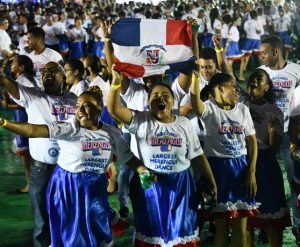 COUPLES
Contests
The couples were selected through competitions during several weekends in the North, East and South areas of the country. The participants were given a tutorial to learn the dance steps because the Guinness rules state that "the most couples" record must be danced in choreography.