NASA warns of a high level of disaster risk in the Dominican Republic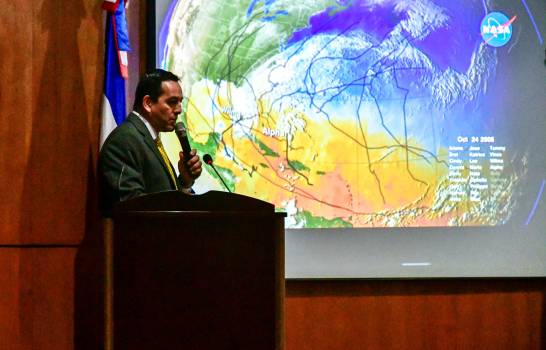 Ricardo Quiroga, researcher and disaster risk management coordinator at NASA. (DANELIS SENA)
Catastrophes could occur if a natural disaster risk mitigation system is not developed, said researcher Ricardo Quiroga
Observations made by NASA determined that the Dominican Republic is at high risk of future disasters, due to its location and the current land planning model.
"Another series of major disasters are coming because we have not developed a land management model," said NASA disaster risk management researcher and coordinator Ricardo Quiroga.
At the same time, he explained, during a conference given at the Technological Institute of Santo Domingo (INTEC), the Dominican Republic is in a geographically critical position. Its location is one of the areas where there is a significant environmental impact from hurricanes, and this makes it necessary to have a mitigation system against natural disaster risks in place.
Quiroga, while sharing information in INTEC.
( 
 )
"We are located at the center of the problem," Quiroga said and explained that hurricanes deviate from the country because the Dominican Republic is in a critical tropical area with a lot of movement. In addition, radars determined that the country is located in the hottest area of ​​the ocean.
Quiroga said that the immediate way of working with natural disasters "does not work" and that it is necessary for the entire population, mainly young people, to worry about taking on a future-oriented mitigation project, with the purpose of working on current environmental problems and prevent future disasters.
"The current land planning models are not encouraging. If there is an earthquake of immense magnitude in this area, there is the possibility of up to 600,000 people dead," said the speaker in front of students and teachers in his conference on the occasion of the Science Week.
In the same way, he indicated that NASA has available to the community the information on the disaster program of that organization and that it can be used for research and development of a project that promotes citizen protection against disasters of such magnitude.
"NASA, as a space agency, has all that data and puts it at the service of the community for free and open, we create the model and we have it available to the public," he said.
Who is Ricardo Quiroga?
Research scientist at the Earth Science Laboratory at NASA's Goddard Space Flight Center, Greenbelt. His research interests focus on disaster risk reduction, focusing on the application of Earth observations to develop products and services for decision-makers throughout the disaster cycle. He directs the disaster group of the Regional Earth Observation Group of America (AmeriGEO) and the AmeriGEO data exchange system.
Yesterday morning he gave a keynote address to INTEC students at Science Week, where he explained the issues with the greatest impact on the level of disaster risk in the country. In turn, he said that earthquakes and hurricanes are increasing, while global warming continues and causes the rising levels of the oceans.