Survey reveals 40.8% of Dominicans have plans to leave the country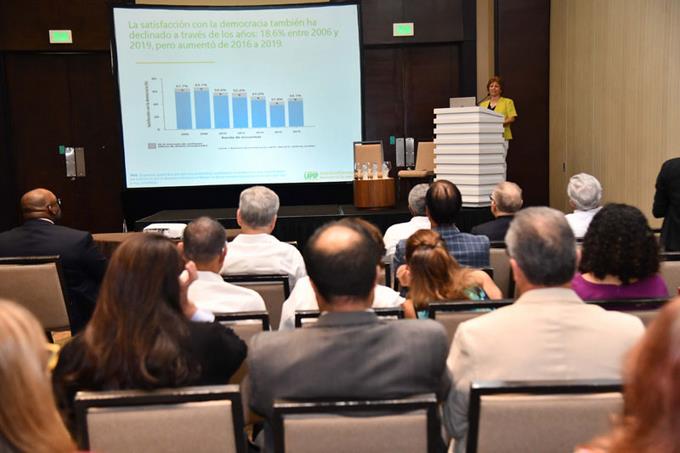 Rosario Espinal presented the survey. GLAUCO MORQUETE /
In recent years, support for the rights of Haitian immigrants and their descendants based in the country has been significantly reduced, according to the most recent Barometer Survey of the Americas.
The study released yesterday refers to the approval that the children of Haitian immigrants born in the Dominican Republic be Dominican citizens experienced an abrupt reduction of almost 17 percentage points, from 50.9% in 2014 to 34% in 2019.
There is also a significant decrease in the approval of the government granting work permits to undocumented Haitian immigrants, from 37.3% in 2014 to 27.3% in 2019.
Disappointed
Research also indicates that 40.8% of Dominicans have plans to emigrate in the next three years to work or live in another country. "The intention to emigrate is greater among men and the youngest. 34.7% of Dominicans have considered emigrating specifically because of insecurity," says the survey based on interviews with 31,050 people from 20 countries in Latin America and the Caribbean between the end of 2018 until the summer of 2019.
On this occasion, the questionnaire was not applied to Haiti or in Venezuela, due to instability in both nations.
Parties and Government
Dominicans have been losing confidence in public institutions, mainly in political parties, and more recently, also in the management of the President, according to data from the 2018/2019 Barometer Survey of the Americas, published in the document "Political culture of democracy in the Dominican Republic and the Americas, 2018/19: Taking the pulse of democracy". Confidence in political parties has continuously had the lowest average, falling to 28.4 in 2019 on a scale of 0 to 100. The average confidence in Congress decreased to 41 points, and trust in elections fell to only 37.2 points in 2019.
According to data from the same 2018-2019 Barometer Survey of the Americas, released Thursday, 87% of the population also believes that more than half of Dominican politicians are involved in corruption.