Tropical depression number 13 forms in the central Atlantic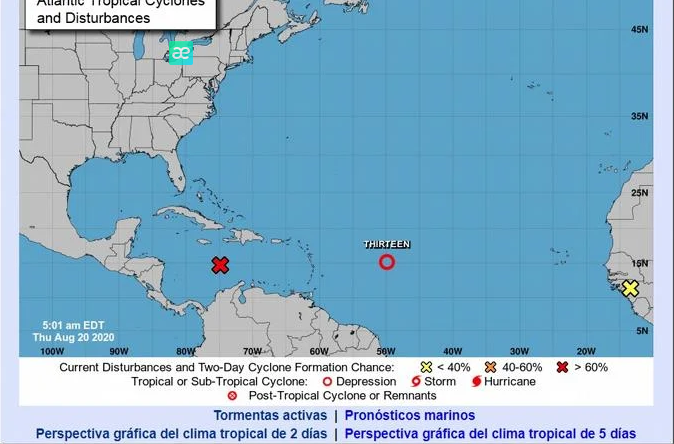 According to the National Hurricane Center, it could become a hurricane.
Santo Domingo, DR
Tropical depression number 13 formed last night in the central Atlantic, for which the National Hurricane Center (CNH) of the United States issued a warning. 
According to the CNH, this natural phenomenon, which is accompanied by a wide area of ​​low pressure, is located about 1,420 kilometers east-southeast of the Lesser Antilles, with maximum sustained winds of 55 kilometers per hour (34 mph), with higher gusts, moving heading west-northwest at about 33 kilometers per hour (20 mph).
The system is traveling west-northwest with little change in strength and projected to strengthen in the coming days and turn into a storm this Thursday afternoon.
A tropical wave accompanied by a wide area of ​​low pressure is producing a concentrated area of ​​downpours and thunderstorms over the central Caribbean Sea. According to the NHC, this system is gradually becoming better organized, and a tropical depression is likely to form in a couple of days as the system approaches the northwestern Caribbean Sea.
While in the country, the National Meteorology Office (ONAMET) reported that tropical storm 13 continues to be monitored due to a sizeable cloudy area associated with a tropical wave, located over the center of the Caribbean Sea, which has a probability 70 percent of becoming a tropical cyclone (hurricane) in the next 48 hours. 
Another tropical wave in West Africa is also being watched, with a 10 percent potential to develop into a tropical cyclone in 48 hours.
Today, isolated to partly cloudy cloudiness is expected with occasional scattered showers and isolated thunderstorms over the northeast regions, the eastern plains, and the Central Cordillera.
For the National District, Onamet forecast occasional cloudy with showers and distant thunderstorms.
Maximum temperatures will hover between 33 °C and 35ºC (91-95°F ) with minimums between 23ºC and 25ºC (73-77°F) for Greater Santo Domingo.