Two Venezuelans are arrested on the coast of Barahona with 263 packages of cocaine and an M-16 rifle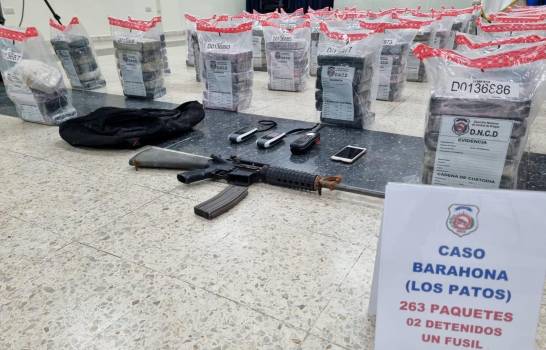 https://www.diariolibre.com/binrepository/546x410/0c30/546d350/none/10904/JNPN/narcotrafico_16658540_20210621123925.jpg
The DNCD has seized 1,029 drug packages in less than a week
The National Drug Control Directorate (DNCD), with the support of the Navy, seized two Venezuelans with 263 packages, presumably cocaine and a 5.56-caliber M-16 rifle, in an operation deployed on the coast of Barahona.
With this seizure, the number of this type of drug casings, which is usually used in drug trafficking, seized in less than a week, rises to 1,029.
The DNCD operational teams and military personnel followed the speedboat and intercepted it, after more than eight hours of pursuit, near the Patos beach in the aforementioned province, with the two foreign occupants. Inside the boat, they had 10 nylon sacks, with the packages of the substance.
According to a press release from the anti-narcotics agency, the detainees have also seized a charger for the M-16 and several capsules, two GPS, cell phones and a marine communication radio, three life jackets, a blue tarpaulin, two fuel jugs. and two outboard motors.
The DNCD says that they are intensifying the investigations to locate other members of the criminal structure, while the detainees are in the hands of the Public Ministry to learn about coercion measures in the next few hours.
The authorities have reinforced anti-drug interdiction operations throughout the national territory, which has allowed them to deal major blows to international drug trafficking networks that try to use the territory for their criminal activities.
The 263 packages of the substance are being sent under chain of custody to the National Institute of Forensic Sciences (INACIF) to determine the type and weight of the substance.