Covid vaccine mandate draws protest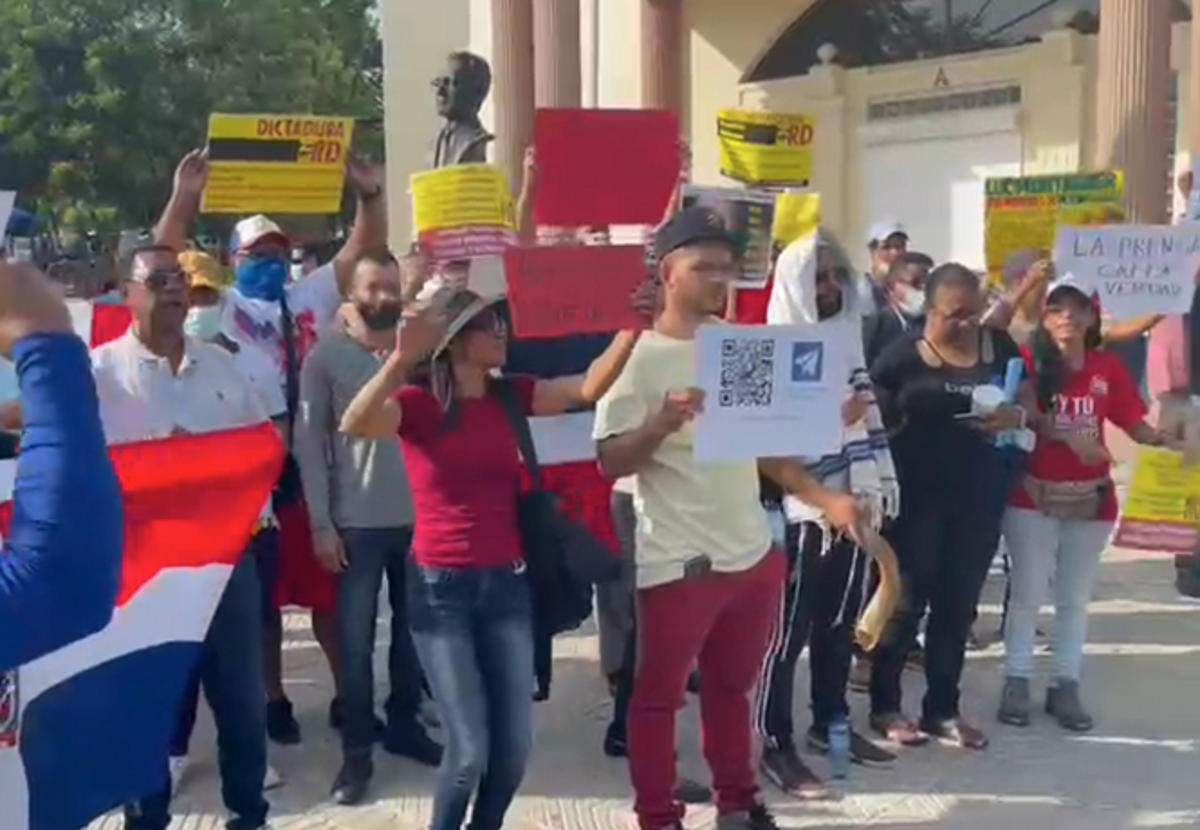 Demonstrators appeared yesterday in front of the National Palace to protest against the measures ordered by Public Health for those who do not get vaccinated. EXTERNAL SOURCE
The political leader and pastor, Carlos Peña, led the demonstration in front of the National Palace, where he demanded freedom.
More than a hundred people gathered in front of the National Palace in protest against the mandatory nature of the Covid-19 vaccine.
Launching slogans that read "no to the mandatory vaccine, if we live in freedom, why do they want to force us?"
The protesters criticized that people who have not yet been inoculated against the coronavirus do not want to let them use the Metro, the cable car, entering universities, and other spaces.
The protest was called by the political leader and pastor Carlos Peña, who expressed his opposition to the measures ordered by the Ministry of Public Health and claimed the right to freedom that all Dominicans have to move freely.
The protesters are made up of the Los Hijos de Duarte movement and pastors and independent people, who assured that no one would make them get vaccinated because they are not laboratory mice.
Mrs. Gladys Félix reported that they filed an emergency appeal for the Dominican American to allow a young man to graduate who is prevented from receiving it because he does not have the vaccine.
Félix said that all the rights of people who do not want to be vaccinated are being violated in the country.
She reported that they would install a permanent camp in front of the Government House until President Luis Abinader lifted the restrictions regarding the Covid vaccine.
On her side, Marlene Abreu said that all they ask is that Dominicans who do not want to be vaccinated give them the freedom to lead an everyday life, like those who have been vaccinated, because they have the right to free movement.
She said that her refusal to receive the vaccines is that they are experiments that no one is responsible for the damage they can cause to human beings.
Some protesters dared to say that this virus was launched from the air by plane and that now they use human beings as guinea pigs to do experiments without explaining the reasons.
Others attacked the Dominican press and dared to say that it has sold out to the Government.
CONTROVERSY 
One of them was Elvis Samuel Méndez, who claimed to be a chiropractor and made it clear that neither he nor his children would be inoculated. Moreover, he said his children have never been vaccinated because he does not lend them to experiments.
Dictatorship.
He explained that the provision around the vaccine is a dictatorship, after adding that he is not opposed to anyone who wants to vaccinate to do so.