TSA will hear on Monday an appeal against a resolution to measures imposed by Public Health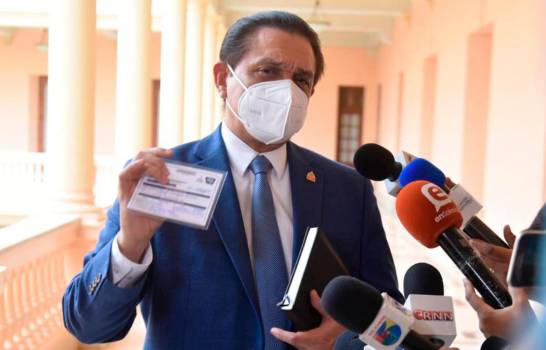 Minister of Health, Daniel Rivera (DIARIO LIBRE / EDDY VITTINI)
The lawsuit was filed by attorney Yan Carlos Martínez Segura
The decision of the Ministry of Public Health to order the presentation of a vaccination card against COVID-19 to access places of public use meets legal objections that must be decided in the courts of Justice.
The Presidency of the Civil and Commercial Chamber of the National District Court of First Instance formally summoned the Presidency of the Republic, the Ministry of Health, and its head Daniel Enrique De Jesús Rivera for allegedly "having various constitutional violations" regarding the obligatory nature of the vaccination card.
The appointment was dated for Monday, October 18, at 10:00 in the morning.
The appeal for protection was filed motu proprio by the lawyers Yan Carlos Martínez Segura and Eli Saúl Barbi Castro, who requested that the procedure be declared of extreme urgency and be known before October 18 of this year 2021.
The lawyers raised their instance against the Presidency of the Republic, represented by Luis Abinader – and the Ministry of Public Health, in the person of its head Daniel Enrique de Jesús Rivera Reyes.
They argue that the Public Health provision violates articles of Constitution 38 (Human dignity); 39 (Right to equality); 40 (Right to liberty and personal security); 42 (Right to personal integrity); 62 (Right to work) and 74 (principles of application and interpretation of fundamental rights and guarantees).
In addition, articles 3 and 4 of Law 107-13 on the Rights of People in their Relationships with the Administration and Administrative Procedure.
"Because there is a serious threat to the fundamental rights of the community, as a result of the plaintiffs, a threat that involves the limitation of broad constitutional rights, to millions of citizens with unsuspected consequences and generating consequences that even disturb the peace and public order, generating chaos, violence and disorder on the roads, public transport and recreational spaces," the document, dated October 10, argues.
The quotation is in Civil Order no. 504-2021-SAUT-0345 with the unique case number 2021-0020013.