There are 306 Haitians in prison in the country for homicides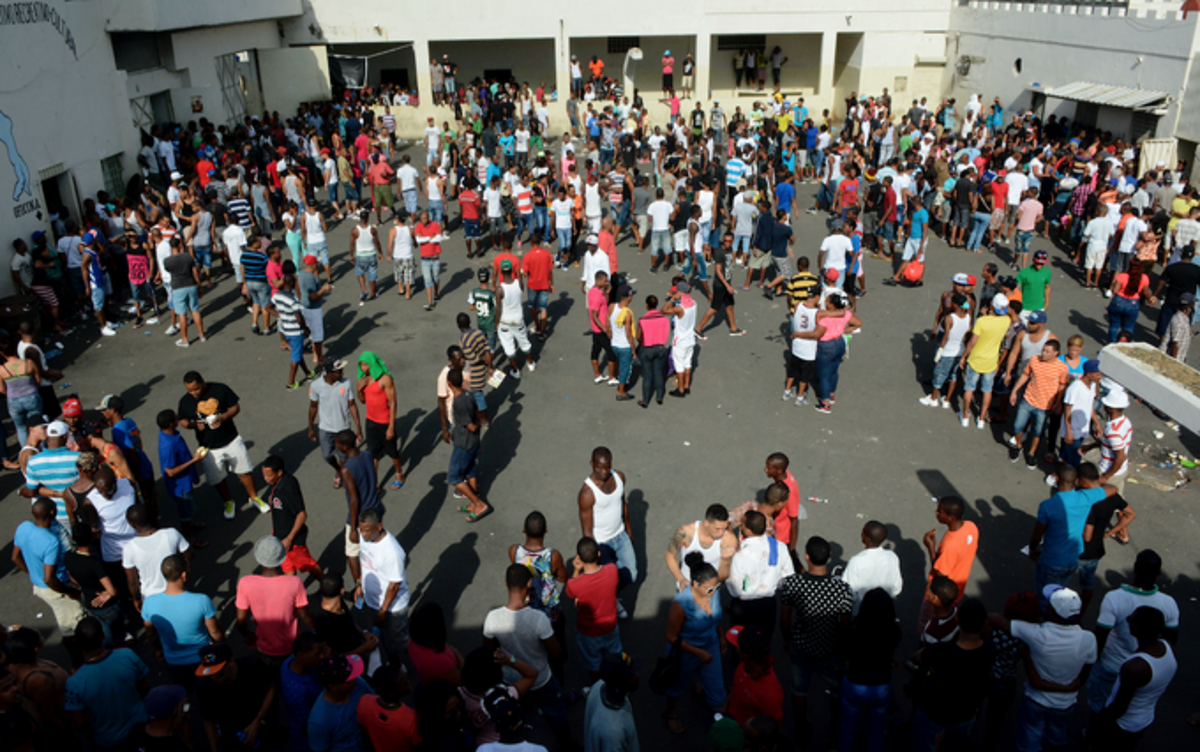 There are 306 Haitians in prison for homicides in the country out of a total of 1,464 prisoners. They represent 80% of the entire prison population of foreigners. FILE/DAILY DIRECTORY
In the country, there are 1,464 Haitians deprived of liberty, mainly in La Victoria prison with 363, in El Seibo with 110 prisoners, Anamuya de Higu¨ey with 101 inmates, and La Vega, with 100.
 There are 306 Haitians imprisoned for homicides and 285 for committing robberies, out of 1,464 prisoners in the neighboring country, according to statistics from the General Directorate of Penitentiary and Correctional Services.
Likewise, some 194 Haitian prisoners and 175 for domestic violence are in prison for violating laws 50-88 on drugs and controlled substances.
Also, some 108 detainees are detained for blows and wounds and another 282 for other infractions of criminal law.
Of the 1,464 Haitians deprived of liberty, 376 have been sentenced by the courts, 1,088 are preventive, and 1,828 are foreign prisoners.
The general population
In La Victoria, the most significant number of Haitian prisoners is imprisoned, a total of 263 inmates, followed by El Seibo with 110 prisoners, Anamuya Higüey with 101 inmates, and La Vega with 100.
Haitian prisoners in the country represent 5% of the general prison population, and 80% of the foreign prison population, while inmates from other countries are 20%.
La Victoria is the most populated prison in the Dominican Republic. Nevertheless, the highest level of overcrowding prevails because it has more than 7,000 inmates, 28.4% of the general prison population, exceeding its capacity.
On August 21, 2021, Listín Diario highlighted that 71% of foreign prisoners in the country were Haitians, with a total of 1,434. In addition, there were 214 North Americans, equivalent to 10%, and 104 European inmates, equivalent to 5%.
Men commit crimes
In a review of December 16, 2021, this newspaper reported that men commit more crimes than women in the country.
According to statistical data registered by the Attorney General's Office, only 2.6% corresponds to the female sex of the Dominican prison population. Moreover, there is no record of crimes in which women outperform men, according to the 2021 review.
This can be
verified by knowing that the number of men in prison adds up to 26,285, while women reach 693, which indicates that 94.0% of prisoners are male.
According to the General Directorate of Prisons, the data indicates that, until December 1, 2021, the Dominican Republic had a prison population of 26,978. This suggests that women are the segment that commits the fewest criminal acts, and criminality by females is not only much lower but is also limited to a range of relatively small and more minor criminal offenses.
The statistics, year after year, support these statements, and there is no criminal offense in which women are perpetrators more than men.
What is the crime?
According to the Legal Encyclopedia, committing a crime implies committing a crime, voluntarily and intentionally infringing a legal norm, when the action or omission is sanctioned in criminal law.
We must beware of the usual definition that equates committing a crime with breaking the law; because the offender, on the contrary, adapts to the conditional budget established in criminal law. Meanwhile, the perpetrator of an offense is considered a criminal, that is, of any act provided for and punished by criminal law. That may be the subject of an investigation in this field.
FOREIGN
DATA
80%.
5% is the percentage that Haitians represent concerning the general population, and 80% is concerning Haitians among the foreign population. The rest of the countries represent 20%.