Police integrate drones into surveillance work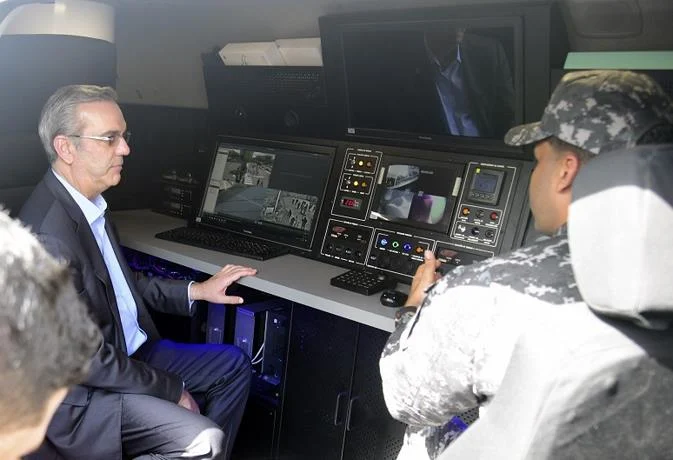 President Luis Abinader receives explanations of how the drones will operate.
Santo Domingo, DR
In an attempt to counteract citizen insecurity, President Luis Abinader yesterday led the announcement of a new tactical surveillance unit that will be executed by drones, adding to other measures that have been implemented in the face of the scourge of criminal acts.
This other measure, according to the president, is part of the "reform and modernization of the National Police," which he described as an "unrenounceable" commitment for which they are making "all possible efforts."
"The reform of the National Police is also a clamor of the people who deserve to have a professionalized police force, close to the citizen, that watches over the general welfare of Dominicans as a whole at all times and that respects, above all," said the head of state in his speech.
The detective and president of the American Police Development Association, Emmanuel Jimenez, explained that these devices would be used when the military forces have to carry out operations and are deployed in specific places.
They have the objective of evaluating and making a previous orientation of the panorama with which the agents will be confronted and will also have the capacity to give instructions to the crowd through a loudspeaker which was tested in the esplanade of the National Police Palace, without the need for the agents to have contact with the citizens "body to body."
Yesterday they announced the provision of 18 drones with high and medium range capabilities that some 42 specialized pilots will control.
The "high range" drones can travel a trajectory of 4 to 5 kilometers and a height of 500 feet. In comparison, the "medium range" drones will reach a distance of two to three kilometers with an altitude of approximately 300 to 400 feet. Likewise, José Vila del Castillo, executive commissioner for the implementation of the plans, strategies, and policies for the transformation and professionalization of the National Police, thanked Abinader for his presence at a critical moment where "the efforts and advances made for the benefit of the military corps" are made known.
"This is the third time in less than a year that he has come to visit us and always at a time when we are working very hard to show him little by little the progress made," he said.
In June of this year, Abinader also led the presentation of the new platform called Integral System of Command, Command and Control Management (Sidmco) to reduce criminality in the country and guarantee citizen security.
What is Sidmco?
Sidmco is a thematic platform that, through the integration of criminal documentation, different records, and databases, processes, transmits, maps background and information in real-time. It will also produce statistical results, queries, and recognition of undocumented persons, cell phones, vehicles, firearms, and other reported objects.