Showers, wind, thunder and lightning today and tomorrow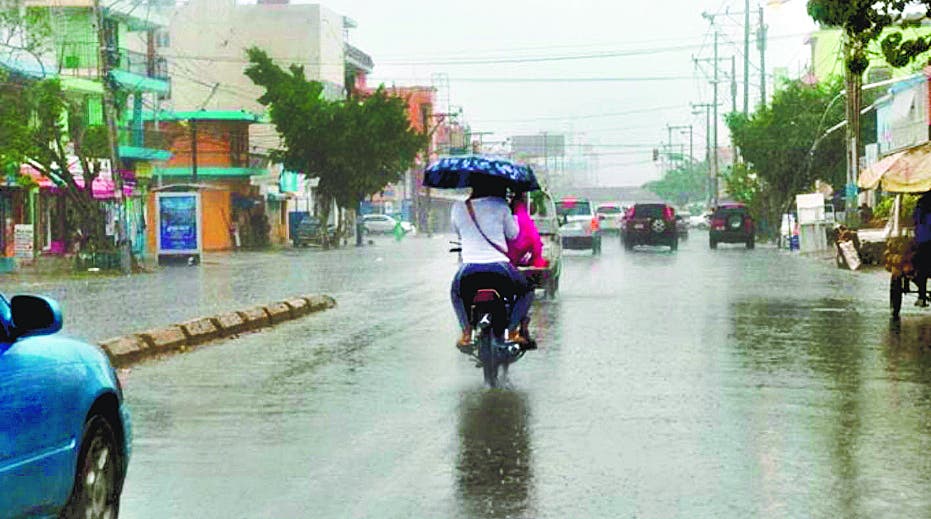 The National Meteorological Office forecasts that there will be downpours, thunderstorms, and wind gusts over the northeast, and southeast, including Greater Santo Domingo, the Central Mountain Range, and the border, which will continue until the early hours of the night due to a trough and tomorrow.
It predicts that temperatures will remain hot in most of the country, with the maximum ranging between 32°C and 34°C and the minimum between 23°C and 25°C.
Onamet is monitoring the potential tropical cyclone number 4 of the season, which last night was 640 kilometers south/southwest of the Boca del Rio Grande, with maximum sustained wind of 55 kph, moving northwest at 22 kph, without posing any danger to the country.
PROVINCES FORECAST BY LOCATIONS T. Max. C T. Min. C
Santiago Medium cloudy to cloudy with showers, thundershowers, and wind gusts. 31/ 33 22/24
Puerto Plata Partly cloudy to cloudy at times with local showers and thunderstorms. 30/ 33 23/25
Duarte Cloudy with showers, thundershowers, and gusty winds in the early morning…. 30/ 34 22/24
Constanza Cloudy with showers, thundershowers and thunderstorms, and wind gusts until early evening. 26/ 29 18/20
Peravia Increasing clouds with showers, thundershowers, and wind gusts. 31/ 34 22/24
San Pedro de Macorís Cloudy with showers, thundershowers, and wind gusts until early evening. 31/ 34 22/24
La Romana Cloudy with showers, thundershowers, and gusty winds until early evening. 31/ 33 22/24
La Vega Cloudy with showers, thundershowers, and gusty winds until early evening. 31/ 31 19/21
Monseñor Nouel Medium cloudy to cloudy with showers, isolated thunderstorms, and wind gusts. 30/ 33 21/23
San Cristóbal Partly cloudy to cloudy with showers, thunderstorms, and gusty winds. 31/ 33 21/23
Samaná Partly cloudy to cloudy with showers, thunderstorms, and gusty winds. 30/ 33 21/23
Monte Cristi Partly cloudy at times with local showers. 31/ 35 23/25
Azua Cloudy with showers, thundershowers, and gusty winds until early evening. 31/ 35 23/25
San Juan Cloudy with showers, thundershowers, and flurries until early evening. 30/ 33 20/23
Barahona Scattered clouds with occasional cloud increase with local storms in the evening. 30/34 23/25
La Altagracia Cloudy with local showers and thundershowers in the evening hours. 30/34 23/25
Today