Judge in former DNCD vice-admiral's case has inhibited himself in two other proceedings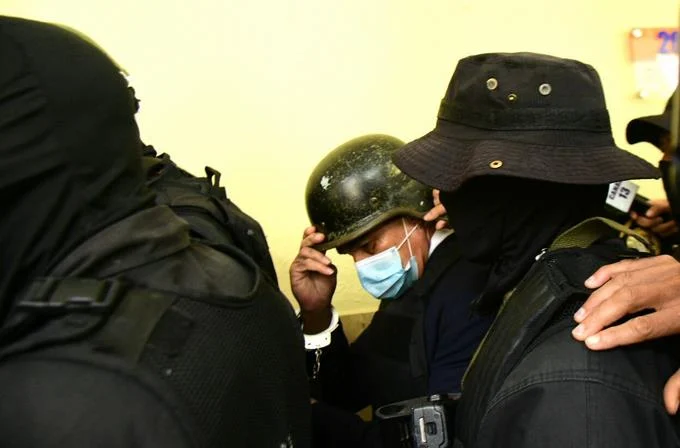 Félix Alburquerque Comprés in court.
Santo Domingo, DR.
In less than two months, Judge Juan Francisco Consoró of the Permanent Attention Court of the National District has abstained from hearing three coercive measures, including the case of retired vice-admiral Félix Alburquerque Comprés, accused of killing the entertainer/presenter Manuel Taveras Duncan.
Yesterday, the magistrate Consoró presented the fact that he had commented on the case of the former president of the National Drug Control Directorate (DNCD), Alburquerque Comprés, as the argument for not hearing the request for preventive detention.
The judge postponed the coercive measure's hearing to give the Court of Appeals of the National District the opportunity until 31 August to decide whether to confirm it or, on the contrary, to designate one in its place.
The accused is represented by lawyers Ingrid Hidalgo and José Rafael Ariza, while lawyer José Manuel Pérez Volquez represents the victim's relatives.
Two other requests where the judge Consoró has abstained from hearing the coercive measure are the cases of the Ukrainian Natalya Kasianova, accused of torture and barbarism against a young Dominican, and that of the doctor and masseur Iván Rosa, suspected of rape against a 37-year-old woman.
In both cases, the National District Court of Appeals rejected it, so judge Consoró had to hear the coercive measures, ordering imprisonment in both cases.
He refuses to talk. At the court's exit, the accused Alburquerque Comprés declined to discuss the crime. At the same time, he was taken under strict security measures to the preventive jail of the Palace of Justice of Ciudad Nueva, where he is waiting for coercive action.