COMIPOL: Roadside assistance on highways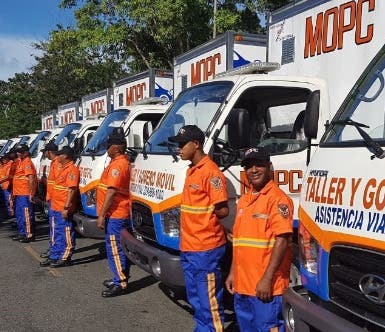 From January to August of this year, the Military and Police Commission (Comipol) of the Ministry of Public Works offered 229,211 road assistance services in different road stretches, according to a report offered by Brigadier General Rafael Vásquez Espínola, director of the entity.
During his participation in the Weekly Luncheon of the Corripio Communications Group, the high official detailed that of this amount, 85,803 corresponded to mechanical failures, for 37.43 percent, while 77,135 were due to tire failure for 33.65%.
Meanwhile, 4,763 road assistance calls were caused by accidents.
Vásquez Espínola explained that more than 900 men are spread out on the main roads at night to assist citizens. Likewise, he said that they have 43 ambulances located at strategic points.
In order to prevent agents from committing illegal acts, they receive monthly rewards for performance, in addition to other incentives. The general also referred to the training received by this personnel.
It is recalled that the Military and Police Commission (COMIPOL) of the Ministry of Public Works and Communications graduated today with 557 members in different training courses.
The graduates received a diploma in quality management based on the ISO-9001 standard, as well as courses in medical emergencies, pre-hospital medicine, and rescue; road section manager of the Road Protection and Assistance program; incident command management; motor vehicle driver and non-lethal weapons handling.
With these 557, the total number of COMIPOL graduates this year is 1,906, with a total of 1,128 hours in retraining, courtesy and military discipline courses, citizen boarding protocol, self-defense, citizen service workshops, fire extinguisher handling, and others.