The flooding of the river in Manabao "took everything away"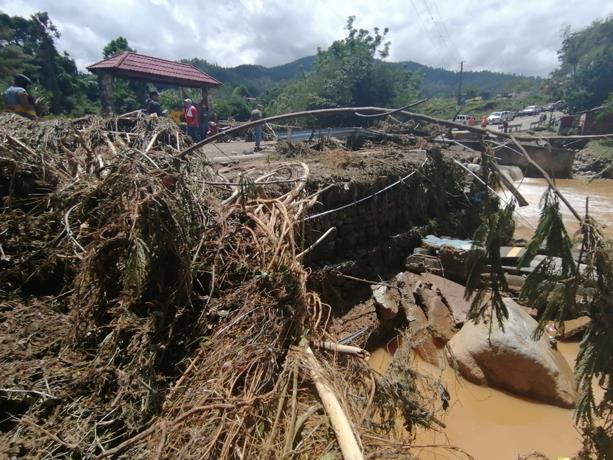 Rocks, broken pavement, garbage and mud were part of what was seen yesterday in the community of Manabao due to the overflow of Yaque del Norte.
Santo Domingo, DR.
After the floods registered by the overflowing of the crossing of the Rio Grande, Manabao, and the Yaque del Norte in the last hours in the community of Manabao, municipality of Jarabacoa, in the province of La Vega, inhabitants say that they had many material losses and that they had never seen "something like this."
"The flood took everything. Refrigerator, stove, bed… I had to take refuge with a brother of mine and my 9 and 17-year-old children," said Elba María Rodríguez, one of those affected by the flood, outside her house, where she had to move her clothes, chairs, and other household items.
Likewise, she said that she had never seen a natural phenomenon of this magnitude, so she advised that a box bridge be built to avoid similar situations in the future.
"What we need is a box bridge, if we had it, the water would go straight through, but when so much garbage comes, the sewer is clogged, and the river overflows here," explained the 45-year-old woman.
She also added that the lack of maintenance of the drainage system was part of the reason for the flooding of some of the streams.
At the moment of narrating what she experienced when her house was flooded, Elba said, in tears, that she had no words to explain what she felt; she had to act quickly, "leave everything behind," and get in a car with her children until the river went down. Although, when she returned, she realized that there was nothing there and that she had "lost everything," it was something disastrous that left a bitter taste in her mouth.
"It was about 4:15 in the afternoon when all this happened. I really fear it will happen again," he added.
Similarly, he pointed out that these floods have affected him about three times before and that the authorities only say "nice words" to him, but in the end, they do not help him to replace his material losses.
"Nine months ago, the same thing happened to me and they did nothing. Here we are poor authorities. Look how incredible, last night I had to go to complain so that they would not let us sleep with the sewer full of garbage if I did not do it it rains again and the water drags us with everything and house," said Elba.
Finally, she indicated that in the El Fogón sector, located in Manabao, at least 15 residences were affected.
Dahiana Marte, Elba's 17-year-old daughter, said that at the time of the heavy rains, she was sleeping when her grandmother, another affected, desperately knocked on the door to get her to leave.
"I didn't think the situation could get this bad. When my grandmother called me and I went out, the river was coming with great pressure. We didn't have time to get anything out," the young woman revealed.
In the case of Santiago Vargas, another of the victims, he stressed that he needs to be relocated from his house or placed higher up because he is in a hole and is in danger when this type of situation occurs.
"My furniture, a bed and a lot of clothes were damaged. So far, the authorities have not told us anything. But we are alive, which is the important thing", added the 57-year-old man who was cooking rice when his home was filled with water.
Luisa Jimenez de la Mota, governor of La Vega, reported that food aid and various necessities were available for the affected residents of Manabao.
"We are finishing the survey with the Civil Defense and firefighters to be able to say the exact numbers of families and houses affected," said the governor.