Army Commander supervises border area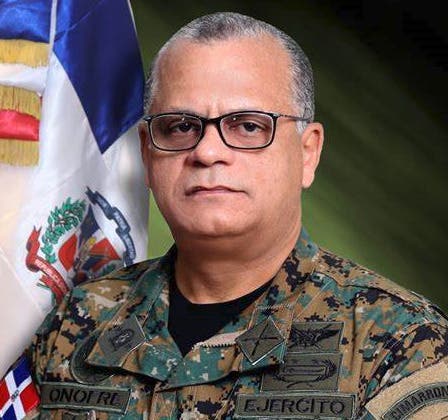 Carlos Antonio Fernández Onofre
To supervise the border security operations carried out by members of the institution, the general commander of the Army of the Dominican Republic, Major General Carlos Antonio Fernández Onofre visited the headquarters of the 10th Infantry Battalion in this city.
The high-ranking officer inspected the infrastructure conditions of the 10th Battalion and the work carried out by the soldiers in the border zone.
In addition, he visited the gate of the formal crossing between both nations to verify the commercial dynamics in the area and supervised the border fence construction.
He also held a meeting with the province governor, Rosalba Milagros Peña, and the municipal mayor, Santiago Riverón.
This was the sinkhole that occurred in Las Carreras Avenue in Santiago.
On the other hand, a sinkhole occurred this Friday in Las Carreras Avenue of this city, approximately 20 meters in length between Sanchez and Cuba streets.
The hole was registered after breaking a rainwater pipe caused by the recent downpours, according to the northern regional director of the Ministry of Public Works and Communications, Alexis Sosa.
This is the second event of a similar nature that has occurred on the road. The first was a wall that collapsed under the 30 de Marzo Street bridge.
These events have created traffic chaos due to the temporary closure of a section of the avenue, although the authorities arranged for one-way traffic in both directions this time.
He maintained that Coraasan is also making revisions to determine if any of its networks were affected. "We are preparing a report to see if all of Las Carreras Avenue will be evaluated, since it really has not been given the proper treatment in recent years," he said.