Weather report for this last Sunday of August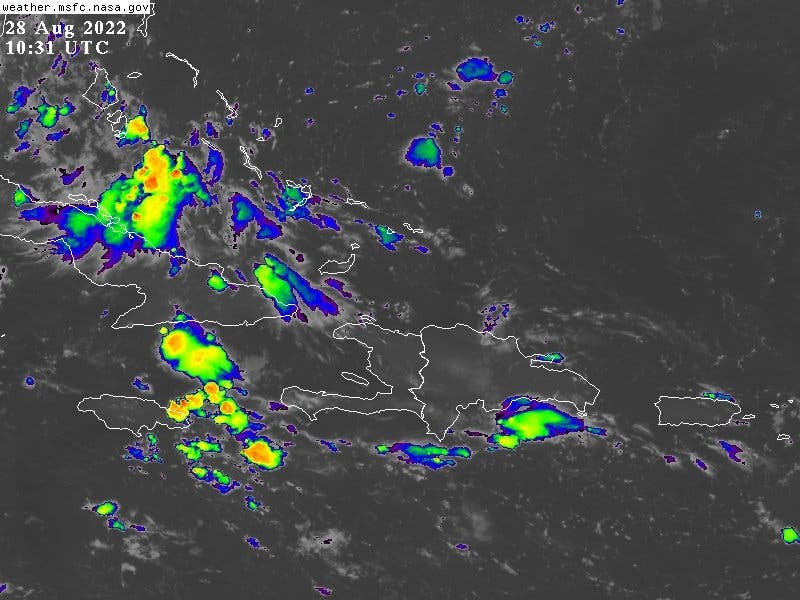 ONAMET: We will continue under the incidence of a trough.
The National Meteorological Office reported that today, during the morning hours, cloudy concentrations will be observed over the Caribbean coastal coast, generating some weak to moderate rains with isolated thunderstorms, especially in: Santo Domingo, San Cristobal, and Peravia.
In the afternoon, showers with thunderstorms and occasional gusts of wind are expected over towns in the northeast, southeast, and Central Cordillera, because the trough in the upper levels of the troposphere will continue to dominate the weather conditions.
Temperatures will remain hot due to the time of year; for this reason, the ONAMET maintains the recommendation to the entire population to drink enough fluids, wear light clothing and light colors, and not expose themselves directly to solar radiation during the period of greatest insolation (between 11:00 a.m. in the morning and 4:00 p.m. in the afternoon).
Onamet keeps watch
The entity is monitoring an area of downpours and thunderstorms associated with a low pressure located in the tropical central Atlantic with a 20% probability of reaching the category of a tropical cyclone during the next 48 hours, rising to 60% in the next five days. In addition, it follows the evolution of another low-pressure area located 965 kilometers east of Bermuda, which presents a low probability (10%) in 48 hours.
Tomorrow's weather
Tomorrow, Monday, the beginning of a new work week, will continue with an unstable meteorological environment, thanks to the incidence of the trough in height and the approach of a tropical wave.
Consequently, from early morning hours and extending into the morning hours, moderate to heavy rains with thunderstorms will be generated over localities of El Seibo, Hato Mayor, Monte Plata, La Romana, San Pedro de Macorís, and Santo Domingo (including the National District). In the afternoon, this activity of downpours with thunderstorms and wind gusts will be replicated in towns in the northeast, northwest, and Central Cordillera.