Dominican Republic awakes to a US$309M corruption scandal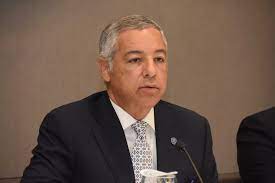 D. Guerrero.
Santo Domingo.- Several of the companies that had transferred credit to claim alleged public debts from the State for expropriation of land were incorporated into the National Office of Industrial Property (Onapi) in 2020, the same year in which they were beneficiaries of the payments made by the Tax authorities.
The companies are listed in a financial information authorization issued by Judge Kenya Romero, coordinator of the Investigating Courts of the National District, in favor of the Specialized Attorney for the Prosecution of Administrative Corruption (Pepca), which is investigating several former government officials. for an alleged network that would have defrauded the Dominican State for more than 17,000 million pesos (US$309.0 million).
Among those investigated are the former Minister of Finance, Donald Guerrero Ortiz, Emilio César Rivas Rodríguez, former director of National Assets; Claudio Silver Peña, former National Director of Cadastre; Luis Miguel Piccirillo Mccabe and Domingo Enrique Martínez Reyes, from the State Sugar Council; Simón Lizardo Mézquita, former administrator of BanReservas; Luis Baldemiro Reyes Santos, former Budget Director; Daniel Omar de Jesús Caamaño Santana, former Comptroller General of the Republic and Princess Alexandra García Medina and Aldo Antonio Gerbasi Fernández, from the Public Debt Recognition Directorate, among other former officials and subordinates.
As described in the document, under the instructions of the Minister of Finance, fraudulent maneuvers were carried out with the aim of subtracting from the public treasury the amount of RD$19,653,871,513.80, for transactional agreements, "of which we (the Pepca) identified that they achieved subtract RD$17,300,642,051.07 for operations related to expropriation of land in protected areas".
Also with the "simulation of the purchase and sale of land under the administrative debt modality, whose common element in all the transactions or agreements signed between the parties is that related to a contract for the assignment of credits for more than 10,500 million pesos to people of their entire confidence, which sometimes used commercial offshore companies."