Collado announces RD$660 MM investment in road infrastructure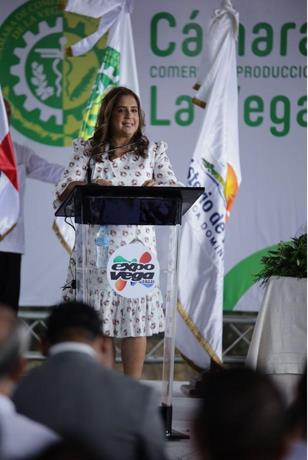 La Vega, DR
Expo Vega Real 2022 – one of Cibao's most emblematic commercial events – formally kicked off its twenty-sixth edition on Thursday, September 1, for the first time in person following the COVID-19 health crisis that began in 2020.
The activity, sponsored by the Chamber of Commerce and Production of La Vega, an institution with 114 years of history, sealed its opening with a keynote speech by Tourism Minister David Collado, in connection with its slogan for this year: "La Vega: Live the Experience in the Capital of Ecotourism."
Collado announced for next year an investment of RD$660 million in road infrastructure for the mountain tourism zones, a RD$40 million training plan to train people in different technical disciplines, and a plan for the international promotion of the Carnival of La Vega, which will be declared a country brand.
For four days, Expo Vega Real 2022 will be a full display of commercial activities offered at the fairgrounds of the La Vega Country Club and through the platform www.expovega.com which guarantees national and international presence to the event held annually for 26 years.
Entertainment activities for the whole family, high-impact talks, and artistic presentations complement the offerings of the commercial festival for vegans.
In the main opening speech, the president of the Chamber of Commerce and Production of La Vega, Irlonca Tavárez, highlighted the positive expectation prevailing in La Vega of an economic dynamism boosting ecotourism, for which the construction of communication infrastructure and a computer plan to align real estate development is required.
"It is appropriate to highlight that, as Vegans, we are very optimistic about the "Tourism in every corner" platform, recently launched by President Luis Abinader and Minister Collado to support and promote local tourism with a focus on sustainability and inclusion," argued the business leader.
La Vega – highlighted Tavárez – is one of the oldest towns in the New World, founded in 1494; it is a quarry of historical, cultural, and religious values in an environment of natural wealth, which over time has nested a broad product development.
"In different parts of the world, faith tourism is a source of income and the creation of entrepreneurial initiatives. Our Sendero de La Fe, which began to be developed since 2013, is a religious, cultural, ecological, gastronomic, artisanal and agro-industrial circuit with a vocation to attract national and international tourism," he stressed.
Paola Estévez, president of the fair event, said that Expo Vega Real 2022 has security logistics managed by the main security agencies in the area, such as the National Police, Municipal Police, Red Cross, Civil Defense, Fire Brigade, and private companies that guarantee a safe environment within and around the venue.