18 children with dengue at Robert Reid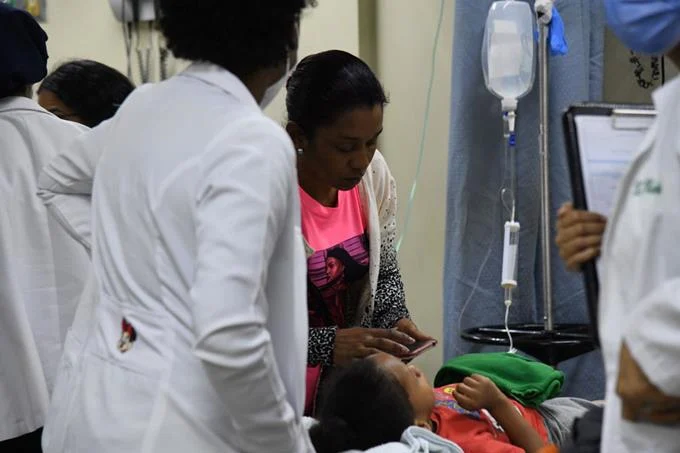 The children's hospital receives patients from other centers.
Santo Domingo, DR
Dengue continues to affect Dominican infants, and at the "Doctor Robert Reid Cabral" children's hospital alone, there were 18 children admitted yesterday for the disease.
"There is an increase of cases compared to last year, about three times increased the number of cases presented. In the hospital we have been handling about eight cases and today we have 18 patients admitted with dengue, therefore we must continue to monitor the behavior of the disease, 15 of these patients are stable and two are under care," said Dr. Clemente Terrero, director of the health center.
When asked about the epidemiological alerts due to the incidence of the virus in the Dominican Republic, Terrero explained that it is under constant surveillance due to the events that have occurred in the past years.
"This disease is under epidemiological surveillance. We all know that for several years we have not had dengue epidemics; this has even dropped significantly in the Covid-19 pandemic; what we are observing is that after more than four years without epidemic, is to see what will happen in that at any time these cases can increase significantly, perhaps even become an epidemic, so the Ministry of Public Health has directed the epidemiological alert," added the infectious disease specialist.
Dengue is caused by the bite of the Aedes aegypti mosquito, which breeds in stagnant water, especially in the home environment where uncovered containers are left. The symptoms shown by those affected by this disease are headache, fever, nausea, vomiting, skin rashes, and in extreme cases, can damage blood vessels and leak.
In addition, it causes a decrease in the amount of clot-forming cells in the bloodstream, which can cause shock, internal bleeding and culminates in organ failure and even death.
The Ministry of Public Health recommends the population not store water in open spaces and properly dispose of waste, such as eggshells, cans, and others.
Respiratory diseases
Regarding respiratory diseases, Dr. Clemente Terrero affirmed that "viral and respiratory infections, which had strongly impacted the pediatric population, which is a reason for admission, have been decreasing, there are still cases, but not with the same intensity as before. Right now there is a gradual decrease," said the director of the Robert Reid Cabral Hospital.
Aedes aegypti
The mosquito that transmits dengue fever is brown in color, with white spots on its wings, and breeds in clean stagnant water, mainly stored in the vicinity of homes.