Tropical Storm Earl joins Danielle in the Atlantic Basin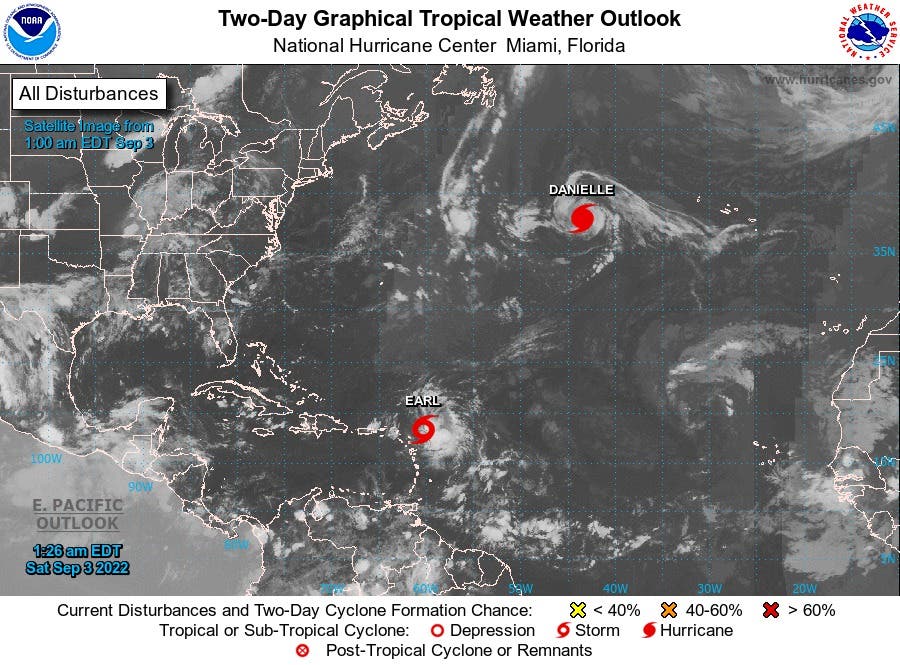 The U.S. National Hurricane Center (NHC) reported Saturday the formation of Earl, the fifth named tropical storm of 2022 in the Atlantic basin, which will dump rain over the weekend on the Leeward Islands, the Virgin Islands, and Puerto Rico.
After a nearly two-month cyclonic "drought," the NHC's Atlantic map is once again populated and not just by Earl but by Danielle, which this Friday became a mid-ocean hurricane but weakened to a tropical storm last night and poses no threat to land.
According to the most recent NHC bulletin, Tropical Storm Earl is located about 115 miles (190 km) east-northeast of the North Leeward Islands (Lesser Antilles) and has maximum sustained winds of 40 miles per hour (65 km/h).
It is moving at 13 mph (20 km/h) to the west-northwest and will continue on that course, albeit at a slower speed, until early Sunday.
It will then make a turn to the northwest with a further decrease in translational speed from Sunday through Monday.
On the NHC forecast track, the center of "Earl" is expected to pass near or north of the northern Leeward Islands today and north of the Virgin Islands and Puerto Rico tonight and Sunday.
Slow strengthening winds are likely during the next several days.
Tropical storm force winds extend up to 175 miles (280 km), mainly north and east of the storm's center.
Earl is expected to produce rain across the Leeward Islands, the U.S. and the British Virgin Islands, and Puerto Rico this weekend, with a risk of flash flooding and rising rivers, the latter especially in Puerto Rico.
As for Danielle, the NHC reported that it is about 915 miles (1,470 km) west of the Portuguese Azores archipelago and has sustained winds near 70 mph (110 km/h).
The storm is nearly stationary, although a westward drift is expected today and Sunday, followed by a northward drift on Monday.
Slight strengthening is expected tonight through Monday, and it could regain hurricane strength on Sunday.
Tropical storm force winds extend outward up to 125 miles (205 km) from the center.
Danielle's origin is in Depression Five, which formed on the first day of September after a rare storm- and hurricane-free August, which had not occurred in 25 years.
The first three months of the six-month season (June, July, and August) saw the formation of tropical storms Alex, Bonnie, and Colin.
Danielle came to break the tranquility that had prevailed in the Atlantic since early July.