Occupation of a school building under construction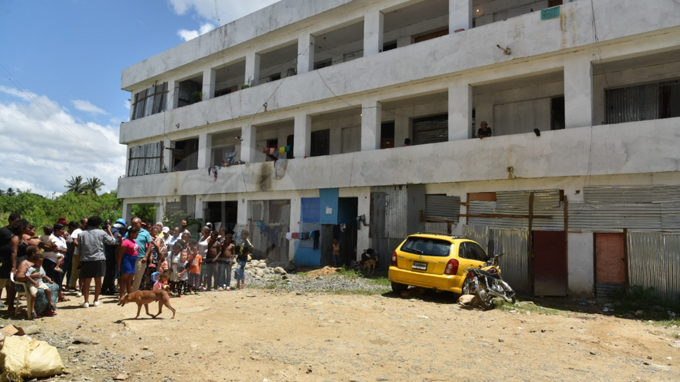 Santo Domingo, DR
The incessant crying of children running without knowing what to do while being victims of unexpected mistreatment and looting.
Waking up disoriented by the noise in the distance, inexplicable about what was happening, but which made collective the despair and pain of hundreds of families who lived that March 6, 2021, when they were not only evicted but also homeless.
It seems like a scene worthy of a movie entitled "The Apocalypse"; however, it is nothing more than the sad reality of those who today call themselves "Los Desalojados del Barrio Freddy Beras-Goico," (The Evictees of Barrio Freddy Beras-Goico) who have become owners of a school under construction in the neighborhood of Los Coquitos, in the municipality of Los Alcarrizos.
"We have been forced to live in a maximum and brutal condemnation. This is condemning people to live without quality of life. Many were forced to live in borrowed, rented houses, in canopies and we who had no one, look how we are living here, in a school", expressed Manuel Trinidad, spokesman for the evicted people.
They are specifically 389 families, among them more than 200 children, who for more than a year have been living in the unfinished buildings of "The school of the evicted," hoping that someday, at least one of all the promises they have received from the government, will see the light of day.
"Mr. President, you say not to look back, but how are we going to look forward if we have been spoiled, abused and forced to live without quality of life," expressed Trinidad, who also added that it has been some time since Luis Abinader promised them that there was a piece of land for them.
Children, young people, adults, and the elderly live in misery in a situation that could not arouse more than pity.
In small classrooms that have been set up as if they were houses, some with areas separated by cardboard that define a kitchen, a living room, and a bedroom, live five to seven families, including children.
The hours of the day are lighter, with dozens of them going out to work, but the nights in their rooms are a real tedium when it is time to throw the mattresses on the floor and pile up to rest.
After the massive looting that resulted in their eviction from the Freddy Beras-Goico neighborhood, the belongings of many of the families living in the school were reduced; however, the spaces were not enough for them to shelter in a single classroom, which corresponds to seven branches lines.
"We tried to make it possible here; we made our own stove, we made these cabinets to be able to store a few treats," said Rosanna and Julio, a couple that the need of space, closed with sheets of zinc the part of the corridor corresponding to the classroom they call home.
Although it would seem that they have become accustomed to living there, impregnating with their essence the sections awarded with their paintings, photographs, and perhaps some prizes, the reality is that the desperation to receive the answer that something better will be given to them do not abandon them.
They live without privacy, and something they could never get used to is the fateful hustle and bustle of going to the bathroom.