Scumbag drags puppy through Haina streets behind motorcycle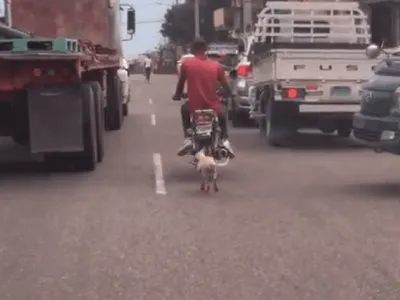 Inhuman drags puppy behind motorcycle.
A reader of Diario Libre denounced one of the most recurrent types of animal abuse this Thursday. An individual is riding a motorcycle while dragging a puppy tied by a rope. Inexcusable cruelty! And WHY didn't ANYONE else stop this subhuman?
The video was recorded on José Francisco Peña Gómez street, in the municipality of Haina, at 3:33 in the afternoon of Wednesday, March 30.
It is recalled that maliciously mistreating an animal, by malice, brutality, selfishness, and satisfaction; running over an animal with a vehicle voluntarily or maliciously; as well as intentionally hurting or running over animals, causing torture or unnecessary suffering or causing death, is punishable by Law 248-12 on Protection and Responsible Animal Ownership.
According to the person who recorded the video, the motorcycle has license plate K2022985.