Robert Reid hospital has 18 children with dengue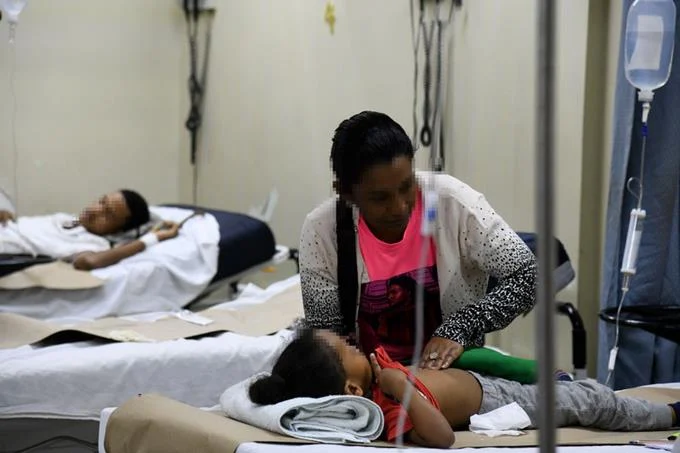 The majority of dengue cases at the Robert Reid hospital are of preschool children in whom early attention has a lot to do with recovery. file/ld
Santo Domingo, DR
The Doctor Robert Reid Cabral Children's Hospital registered an increase last week in cases of admissions due to the bite of the dengue mosquito.
Clemente Terrero, director of the medical center, stated this, who assured us that the hospital receives from one to seven new cases of dengue fever daily.
According to the figures offered by Terrero, up to yesterday, the number of children admitted amounted to 18, all in stable conditions, with the symptoms of the bite, while the day before, there were 12 registered.
"There are a few more cases than last week. Yesterday we had 12. Sometimes they go down; sometimes, they go up. Today we have 18 admitted, all stable," the doctor declared.
Recommendations
In addition to reminding people to be careful with tanks and nurseries, the director of the Robert Reid Hospital encouraged parents to take their children to receive medical care and attention in time.
Immediately if symptoms compatible with dengue fever are detected, such as fever, headache, general malaise, muscle pain, nausea, vomiting, and loss of appetite.
Terrero affirmed that any infant or child should be attended to as quickly as possible, considering that this could make a difference in their recovery process.
"We call on parents to take their children when they present symptoms compatible with dengue. Take them early because if they receive them early, the patient can recover," the physician insisted.
He also said that most of the current cases in the hospital are of preschool children, with which early attention, parents, and the medical approach have made a massive difference in positive outcomes.
Deaths
On Wednesday, it was reported that six new deaths were caused by dengue fever in the last month in the country, bringing to 26 the number of deaths registered by the epidemiological surveillance system due to the disease, which affects children primarily.
As of the sixth day of August, the country had reported 20 deaths due to dengue fever according to records of epidemiological week 31 of the General Directorate of Epidemiology, which rose to 26 in the updates offered yesterday by the Ministry of Public Health, which is equivalent to six new deaths in one month due to dengue fever.