Three subvariants of Covid affect the country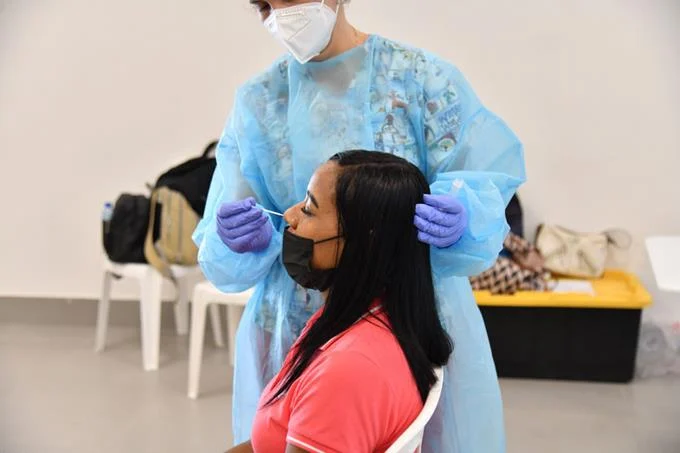 A young woman undergoes a blood flow test for a PCR test to determine if she is affected or free of Covid. / File, Archive
The BA.4 subvariant of the Covid-19 omicron is the one with the highest national incidence to date, being detected in 86% of the latest samples sequenced at the Dr. Defilló National Laboratory, according to reports from the Ministry of Public Health.
In addition to BA.4, the BA.5 subvariant, identified in 11% of 46 sequenced samples and whose results were released this week, also has active circulation, although to a lesser extent, as well as BA.2, which was present in 2% of them.
The subvariants were identified in different provinces, being responsible for the new infections registered in the country, which in recent weeks have hovered between 200 and 300 cases per day.
In the last 24 hours, the country reported 302 new virus cases and a total of 950 active cases.
Yesterday, 2,942 laboratory samples were processed, with 22.52 of every 100 analyzed being positive.
Currently, the largest reports of positive cases of the virus are recorded in Greater Santo Domingo, Santiago, Duarte, La Vega, San Pedro de Macorís, Valverde and Sánchez Ramírez.
The accumulated positivity of the last four weeks keeps going down; yesterday it was placed at 6.56%.
To date, in the history of the epidemic, three million 646,388 laboratory samples have been processed in the country to diagnose Covid-19, with a positive result captured in 641,677 of them.
Hospitalizations for the disease continue to decline. According to epidemiological bulletin number 904 issued by the Ministry of Public Health, yesterday there were 40 patients admitted, of which 31 were in regular beds and nine in Intensive Care Units (ICU).
Details
Cases
No reports of fatalities.
For several weeks, no deaths from Covid-19 have been reported in the country. To date, 4,384 deaths from the disease have been recorded, with a fatality rate of 0.68%.