Solid waste continues to arrive on the southern coast of Santo Domingo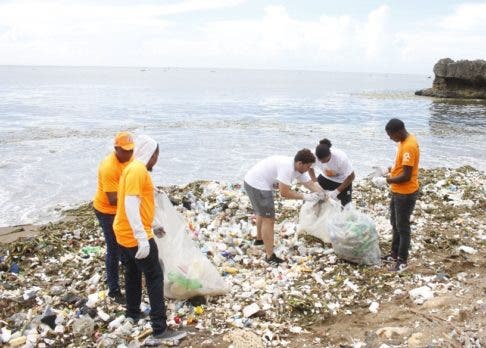 The southern coast of Santo Domingo continues to be the deposit site for tons of solid waste, mainly plastics, lilacs, trunks, and other objects, which it receives from the Ozama, Isabela, and Haina rivers which, in turn, are fed by creeks surrounded by thousands of families who use them as dumping grounds.
The situation of the seas provoked the warning of the Minister of the Environment, Miguel Ceara Hatton, about the urgency of preserving this natural wealth, the fundamental base of tourism, the primary economic source of the Dominican Republic.
The recent rains have caused the tributaries to swell, dragging in their wake the waste that families throw into the streets and ravines, as well as that which is not removed by the municipalities of Greater Santo Domingo and which goes directly into the rivers that flow into the sea.
Beaches such as Güibia and Fort San Gil, on the Malecón of Santo Domingo, and the Gringo, in Haina, were yesterday full of waste, much of it plastic and foam containers, as well as sticks, lilacs, pieces of mattresses, and metals.
Julio Ogando of the Vida Azul Foundation headed a brigade yesterday that removed waste from the beach of Fort San Gil. By mid-morning, they were already carrying dozens of bags up the avenue to be transported to the landfills.
Ogando urged Dominicans to become aware of the damage caused by plastics to the ecosystem, mainly to the seas and the species that inhabit them.
He recalls that the country lives from tourism, and the sea is the main wealth with its waters and sands, so if it becomes a landfill, it will kill the goose that lays the golden eggs.
The beach of Fort San Gil, in front of Palo Hincado and Montesinos streets, is where solid waste accumulates the most, while many lilacs float in the dirty waters of the sea.