Thousands will participate in beach clean-up day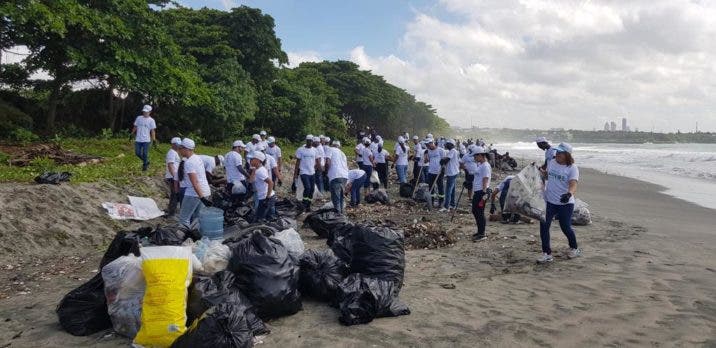 Environmental organizations, dozens of private companies, and public institutions will participate next Saturday, September 17, at the FERSAN Breakwater Beach, located in the port of Río Haina Oriental, to renew their commitment to protecting the environment and natural resources.
The clean-up day is sponsored by Fertilizantes Santo Domingo (FERSAN). It has been held every year for over a decade on the occasion of this month to raise awareness of the care of our beaches and riverbanks worldwide.
Each year, public and private organizations take their social responsibility agendas to pool their intentions, ideas, and resources to make the welfare of all coasts an everyday habit.
"Although the company FERSAN has a permanent maintenance staff for this beach, achieving to reflect during all the days of the calendar the objective that we promulgate in the annual days, these activities are still a wonderful opportunity to include the Dominican society in this indispensable work," says Saturday's announcement.
On each annual day, FERSAN has received, along with its staff, thousands of people, through dozens of companies, foundations, community groups, and leaders of the movement, who have gathered each year to reaffirm the commitment to ensure a society with citizens increasingly aware of the result and environmental impact of their small daily actions.
The Minister of the Environment, Miguel Ceara-Hatton, will be at Saturday's event, beginning at eight o'clock in the morning.
The invitation is open to service-minded citizens who recognize the importance of all of us doing our bit in preserving natural resources.
This Saturday, September 17, FERSAN will host the beginning of this joint social effort again.
We will count on the organizations that wish to represent the unwavering commitment to visualize a Dominican Republic that can boast of having coasts that show the value, respect, and care each Dominican has for its ecosystem.
It is a family commitment that will include children. This open invitation is an opportunity to collaborate and involve the youngest of the house in the care of our natural wealth, says FERSAN.
For Fertilizantes Santo Domingo, the coasts and plains are a perpetual commitment.
The people and institutions interested in participating can register at: [email protected].