Hurricane watch: Atlantic downpour zone has 30 % chance of becoming a tropical cyclone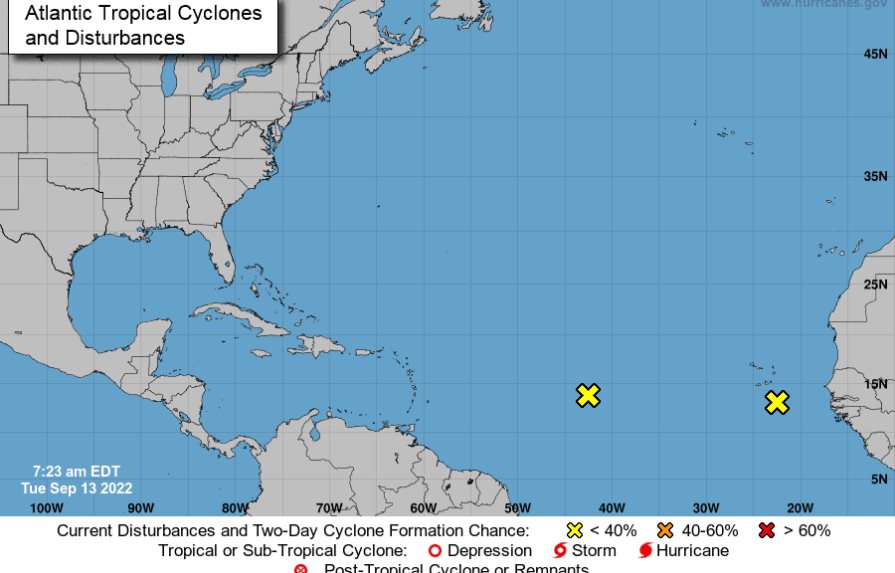 The U.S. National Hurricane Center reported Tuesday that it is monitoring two areas of downpours in the Atlantic Ocean with a chance of reaching tropical cyclone status.
The institution indicated that satellite data indicate that showers and thundershowers associated with a tropical wave located between the west coast of Africa and the Windward Islands have increased and have been better organized since yesterday afternoon.
He warned that further development is possible and that a tropical depression could form during the next few days as it generally moves west to the west-northwest over the central tropical Atlantic and approaches the Windward Islands on Friday. This system has a 48-hour probability of formation of 30%.
Regarding the other system to the east of the tropical Atlantic, the Hurricane Center indicated that the area of showers and thundershowers has changed somewhat overnight in association with a tropical wave approaching the Cape Verde Islands.
"Environmental conditions appear to be marginally favorable and any development of this system could occur slowly as it moves west or west-northwestward across the eastern tropical Atlantic through the end of the week," it explained.
Onamet
Meanwhile, the National Meteorological Office (Onamet
"For this Tuesday we will continue with the humidity of the tropical wave and the instability of the trough and a sky of partly cloudy to cloudy cloudiness with showers or scattered downpours, thunderstorms and wind gusts in the south/southeast coastal areas, as well as, points of the Central Cordillera and the Cibao Valley, in the rest of the country are expected scattered clouds to medium cloudy with hot temperatures," he said.
The Onamet said that for the afternoon and into the evening, a mostly cloudy sky with showers and thunderstorms is forecast for the southwest, Central Cordillera, Cibao Valley, and the border area, being less frequent in the southeast and northeast, where it will be hot.