Tropical Depression Number 7 forms and may become "Fiona" tonight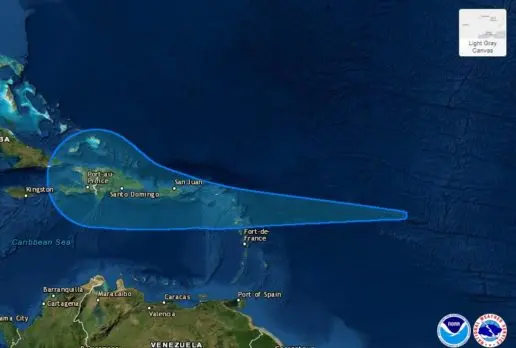 The U.S. National Hurricane Center (NHC) reported Wednesday the formation of tropical depression number 7 east of the Lesser Antilles, which may become a tropical storm Wednesday night or Thursday under the name Fiona.
The NHC warned that the Lesser Antilles, Virgin Islands, and Puerto Rico should monitor the development of this system to take action if necessary.
This morning, Depression 7 was located about 805 miles (1,300 km) east of the Lesser Antilles and had maximum sustained winds of 35 miles per hour (55 km/h).
Onamet says rainfall intensity will decrease this Wednesday
The system is moving in a westerly direction at 14 mph (22 km/h), and this general motion is expected to continue during the next few days.
On the forecast track, the system's center will pass over the Lesser Antilles on Friday and will be near the Virgin Islands and Puerto Rico next weekend.
The NHC forecasts a gradual strengthening of winds throughout the day to tropical storm status on Wednesday night or Thursday.
According to the list prepared by the International Meteorological Organization for the 2022 cyclonic season in the Atlantic basin, the name Fiona corresponds to it.
So far this season (June 1 to November 30), there have been five named storms, of which two, Danielle and Earl, became hurricanes.