Another hospital crisis erupts, now at Robert Reid Children's Hospital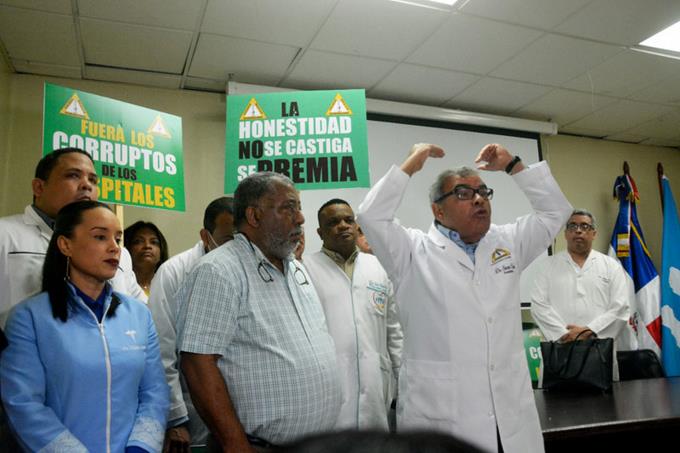 CMD leaders support director Terrero. external/
Santo Domingo, DR
An evident confrontation between the administration and the management of the Robert Reid Cabral Children's Hospital is keeping the center in crisis and presenting a shortage of supplies and medicines.
The center director, Clemente Terrero, yesterday expressed the honesty with which he performed his duties. It said that the hospital is going through an acute shortage of supplies, medicines, equipment, and surgical materials, due to a blockage or obstruction in the administration, which must sign the orders to conclude processes, including purchases.
In expressing his support for infectologist Terrero, the president of the Dominican Medical Association (CMD), Senén Caba, called on the authorities to pay attention to what is happening in some hospitals. He said: "are taken over by the tigueraje."
"That is a boycott of the management, but above all of the proper functioning of this hospital and the lives of the children," Terrero said.
He emphasized that his management has received support from the authorities but that there is a political inconvenience that stops the processes and asks for the support of the doctors of the center in favor of the children of the Dominican Republic.
The specialist referred to the issue at a press conference where he was accompanied by medical leaders headed by the president of the Dominican Medical Association (CMD), Senén Caba, who expressed his support for Terrero and denounced similar situations in other hospitals.
Taken by "tigueraje
In announcing his support for Terrero, Caba called for attention to what is happening in hospitals and said that some of them are "taken over by tigueraje" and gave as an example the Francisco Moscoso Puello hospital, where "they blew up two directors."
He said that Terrero has been confronting for several weeks now sectors of the political power working on getting him to leave his position as general director of the public hospital center.
"The administrator is supported by the wife of the president of the Chamber of Deputies. The situation that the Robert Reid Hospital is going through is known by the National Health Service, the Vice President of the Republic, and the Ministry of Public Health.