Tropical depression under strict surveillance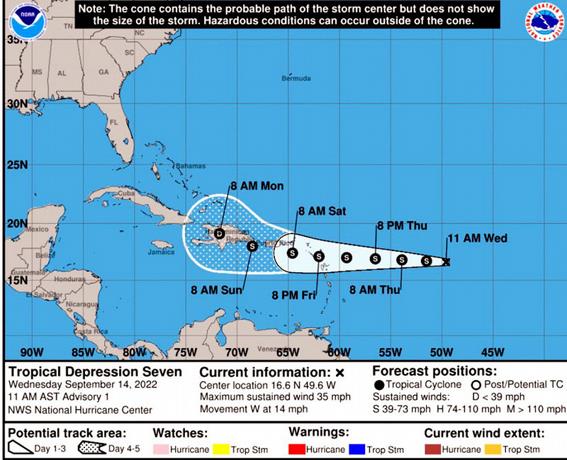 Santo Domingo, DR
With maximum winds of 55 kilometers per hour (35 mph) and a trend of gradual strengthening, the newly formed seventh tropical depression of this 2022 hurricane season is developing. It has attracted the attention of meteorological agencies because of its chances of becoming a storm.
"As of this moment, we are strictly monitoring the movement and evolution of this tropical cyclone," the National Meteorological Office (Onamet) announced through a report released yesterday afternoon.
Trajectory forecasts indicate that the system will continue to move westward and approach the Caribbean region over the next two days.
Consequently, they foresee a "progressive deterioration" in weather conditions for this weekend associated with the, so far, tropical depression.
Meanwhile, the U.S. National Hurricane Center (NHC) reported that the system is expected to move through the Leeward Islands and near the Virgin Islands and Puerto Rico on Friday night.
Humidity and wind
For this Thursday, Onamet forecasts that, although the influence of a drier air mass will remain over the Dominican forecast area, leading to generally sunny weather with limited rainfall activity over much of the country, patches of humidity associated with the wind are expected.