La Romana: Man who killed two civilians and wounded six policemen shot dead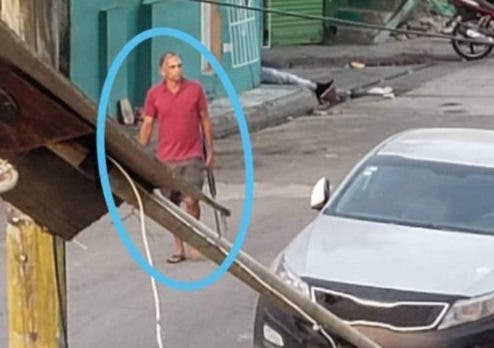 La Romana, DR
National Police officers killed the man who barricaded himself in a house, killed two people, and wounded six policemen in an incident registered on Thursday in Guaymate alley, Villa Pereira sector, in La Romana.
The man killed was Román Guerrero Tavárez, known as "Daniel el Ebanista," who was killed around 12:30 midnight, after more than seven hours of confrontations with police officers.
According to witnesses, the individual barricaded himself in a house with a rifle, where he fired several shots and held a lieutenant hostage.
They indicated that El Ebanista was a person who suffered from mental problems and that he started the shooting "because he felt that he was being chased by criminals."
It was reported that the man's body was taken to the morgue.
Tense moments were experienced with dozens of onlookers located in the vicinity of the business, from where two policemen were seen leaving, one crawling and the other staggering, after being wounded by the man identified as Daniel Guerrero, alias El Ebanista.
A version given at the scene indicates that Guerrero barricaded himself in the shop around 6:00 in the evening after killing the two civilians who were left lying on the pavement. One of the deceased was identified as Gamaliel Mota García.
After seven hours, after 12:15 a.m., the agents managed to kill Guerrero.
The wounded police officers were taken to the Aristides Fiallo Cabral hospital in La Romana. Unfortunately, it could not be confirmed in the early morning hours that one of them had died.
The agents who arrived at the scene tried to enter the building several times but were repelled by El Ebanista. Guerrero also attacked a SWAT unit.
A forensic doctor arrived at the scene of the incident to remove the bodies of the two civilians while waiting for the outcome inside the business.
The agents threw tear gas canisters to disperse the curious, who remained in the place, and some of them transmitted live the incidents with their cell phones.
Users of social networks commented on the lack of professionalism of the police and the lack of equipment to handle situations of this type.