PRSC calls for UN military intervention in Haiti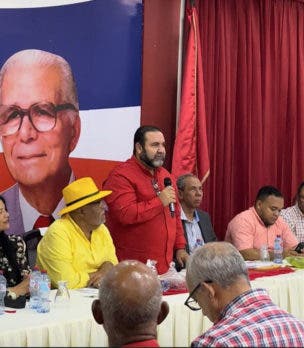 The general secretary of the PRSC, Ramón Rogelio Genao, speaks at the press conference.
The Social Christian Reformist Party (PRSC) today called for the intervention of the United Nations (UN) in Haiti following the political and social crisis shaking that nation, which has degenerated into violent protests, looting, and murders of citizens, including journalists.
Senator and secretary general of the PRSC, Ramon Rogelio Genao, believes that the intervention should take place by sending the UN military force known as "Blue Helmets" as a new United Nations Stabilization Mission in Haiti (MINUSTAH).
Genao pointed out that the situation Haiti is experiencing makes a new UN intervention in that country, "MINUSTAH type that was for 13 years in that nation, from 2004 to 2017," unpostponable.
"The government should also call for a consultation of diplomatic and consular personnel in Haiti ,as well as a temporary closure of the Embassy and consulates in that convulsed nation," he expressed.
"The PRSC, likewise, fully supports the construction of the border wall," he said.
He also said that the PRSC supports the impediment of the entry of the leaders of Haitian armed gangs to the national territory "and other enemies of the Dominican Republic."
Likewise, he added, we join the international community's call for help for Haiti.
He also indicated that the main problem of the Dominican Republic is the Haitian issue, "and we must face it patriotically."
He maintained that in view of the threat that Haiti represents at this moment and the populations that could try to cross into Dominican territory, "the government has to be prepared to close the border."
The senator for the province of La Vega and secretary general of the PRSC spoke during a press conference offered this afternoon at the headquarters of this political organization, where they announced the results of the consultations of the pre-congresses held in the different regions of the country, which he said will be presented next Sunday, September 25 in a massive event at the Catalonia Hotel, in the capital.
The press conference was also attended by the first vice-president, Máximo Castro Silverio; the secretary of the organization, José Balaguer; Frank Martínez, Eddy Antonio Germán, Johnny Jones, Ivelisse Pavón, Rafaela Albuquerque, Joan Fernández, Julio César Domínguez, Max Castro, among others.