Hurricane Watch: John Morales gives "Bad News" about storm Fiona for the Dominican Republic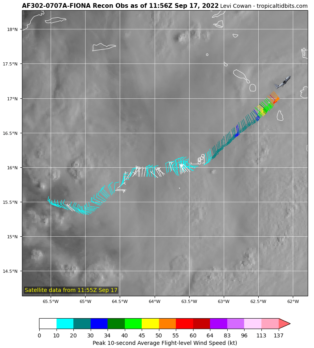 ONAMET Director warns that Fiona is expected to take off as a hurricane.
Renowned meteorological expert John Morales revealed this Saturday that the center of storm Fiona was found "Further South," thus reducing its chances of drifting into the Mona Channel and retracing its path towards Puerto Rico.
In addition, the expert on the subject said there are many possibilities that storm Fiona has great chances of strengthening this Saturday, which worsens the forecast for the Dominican Republic.
"That is *bad news for the Dominican Republic* because it reduces the possibility of the predicted hurricane "sneaking" through the Mona Channel," Morales wrote on his Twitter account.
In addition, the director of the National Meteorological Office (ONAMET), Gloria Ceballos, also via her Twitter account, indicated that the storm is moving west at 20 kilometers with maximum sustained winds of 95kph; it is expected to reach hurricane strength as it moves through the northeastern Caribbean.
"There is a hurricane watch," Ceballos wrote on his social network account.
It is recalled that since yesterday, Friday, local authorities have activated various contingency and prevention plans for the possible passage of the storm. At the same time, people living in vulnerable areas are advised to take the necessary precautions to shelter from the damage that Fiona's rains may cause.