Sound equipment seized in Bonao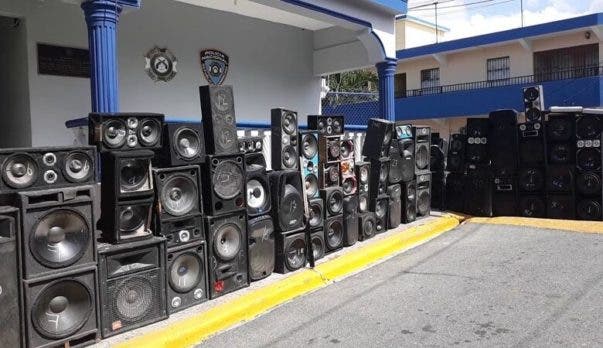 The Specialized Prosecutor's Office for the Defense of the Environment and Natural Resources (Proedemaren) arrested 10 people. It retained dozens of sound amplification equipment components in Bonao and other province municipalities in an operation against noise pollution, which constitutes an environmental crime sanctioned by Law 64-00 and other regulations.
A note says that Proedemaren seized 37 loudspeakers, 26 specialized high-frequency loudspeakers, known as tweeters, plus 14 controllers, also known as drivers.
In addition, 26 drawers, a slot machine, and 12 motorcycles whose drivers did not present the corresponding documents.
The operation, which responded to complaints of noise pollution sent through different communication channels, included the inspection of Liquor Store Julián, Colmado Monte Bar, Drink, Leah Restaurant, Súper Fernand, Palo Bruto, Car Wash El Pincho and Golf Drink 5 Estrellas, among others.
In addition to the noise emission, the Public Prosecutor's Office intervened a business known as "drinks" due to the presence of minors in the place.
In this regard, the Proedemaren recalled that Article 23 of Law 136-03, which creates the Code for the System of Protection and Fundamental Rights of Children and Adolescents, prohibits the entry or presence of minors in places that sell alcoholic beverages and sound equipment.
"It is absolutely forbidden for children and adolescents to enter commercial establishments where alcoholic beverages are consumed, gambling and betting houses. The owners of such establishments shall be obliged to place in a visible place at the entrance of the premises the warning prohibiting the admission of children and adolescents," establishes the article.